Association of Germans in Latvia Verband der Deutschen in Lettland
Slokas ielas 37 • LV-1048 Riga
+371 29297823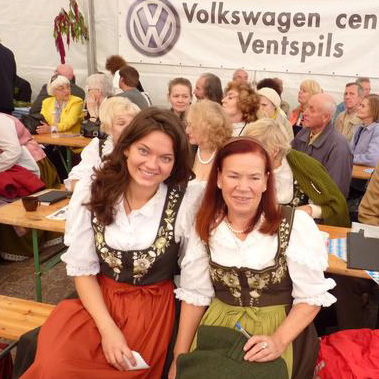 Ilze Garda Chairwoman
The Association of Germans in Latvia (Latvijas Vācu Savienība) is the umbrella organisation of the German minority organisations in Latvia. The mission of the Association of Germans in Latvia is to preserve the identity of Latvia's national minorities by fostering German culture and tradition in Latvia, to strengthen the mutual relations between Latvia and Germany. The Association of Germans in Latvia acts as a voluntary board and consists of the leaders of German cultural associations, chairmen of the board, their deputies, co-chairmen. The board is supported by members of the association as well as by experts (press, German advisors, cultural managers, cultural assistants). The basic values of the association are the German language and culture. The Association of Germans in Latvia is a member of FUEN since 2009.
Latvia is a country on the Baltic Sea coast with a distinctive natural beauty and geographical location. Together with the indigenous Latvians and Livonians, other groups of people live there. But it is also a place where, for centuries, the paths of travellers and merchants, belligerents and refugees, entrepreneurs and scientists, day labourers and artists as well as lovers crossed and were brought together along winding paths. Therefore, Latvia's population today is ethnically and culturally mixed - it has been shaped by people's personal life stories and nation-state politics. Latvia's unique cultural space has developed through contact and exchange with foreign ethnic groups - Germans, Russians, Poles, Jews, Sinti and Roma, Belarusians and others - and is still shaped today by the influence of mainly Scandinavian but also other European countries. The share of ethnic minorities in the population and their national characteristics have also continuously influenced Latvia's development and its socio-cultural environment in various ways. According to the last census in 2012, 2 217 053 inhabitants live in Latvia today, of whom according to the Latvian Migration Board, 4630 are Germans.
The Germans' belonging to Latvian society, their life stories and professional activities have left lasting traces in various areas, both in peaceful and during turbulent times: in art, music, literature, science, medicine and other fields. As an official language and lingua franca, German has played a significant role in Latvian national culture for centuries. Unfortunately, after the Second World War, the German-speaking area is steadily decreasing all over the world, which is also the case in Latvia, where German is just the second, third or even fourth foreign language taught in the educational system. However, there are still 7 schools in Latvia with extended German lessons, as well as the Riga State High School with very strong German traditions. Similarly, German is being chosen less and less in higher education. This is why the constructive and fruitful cooperation with the Goethe-Institut in Riga should be emphasised, as it attracts new prospective students for whom German language and German culture are of importance and interest.