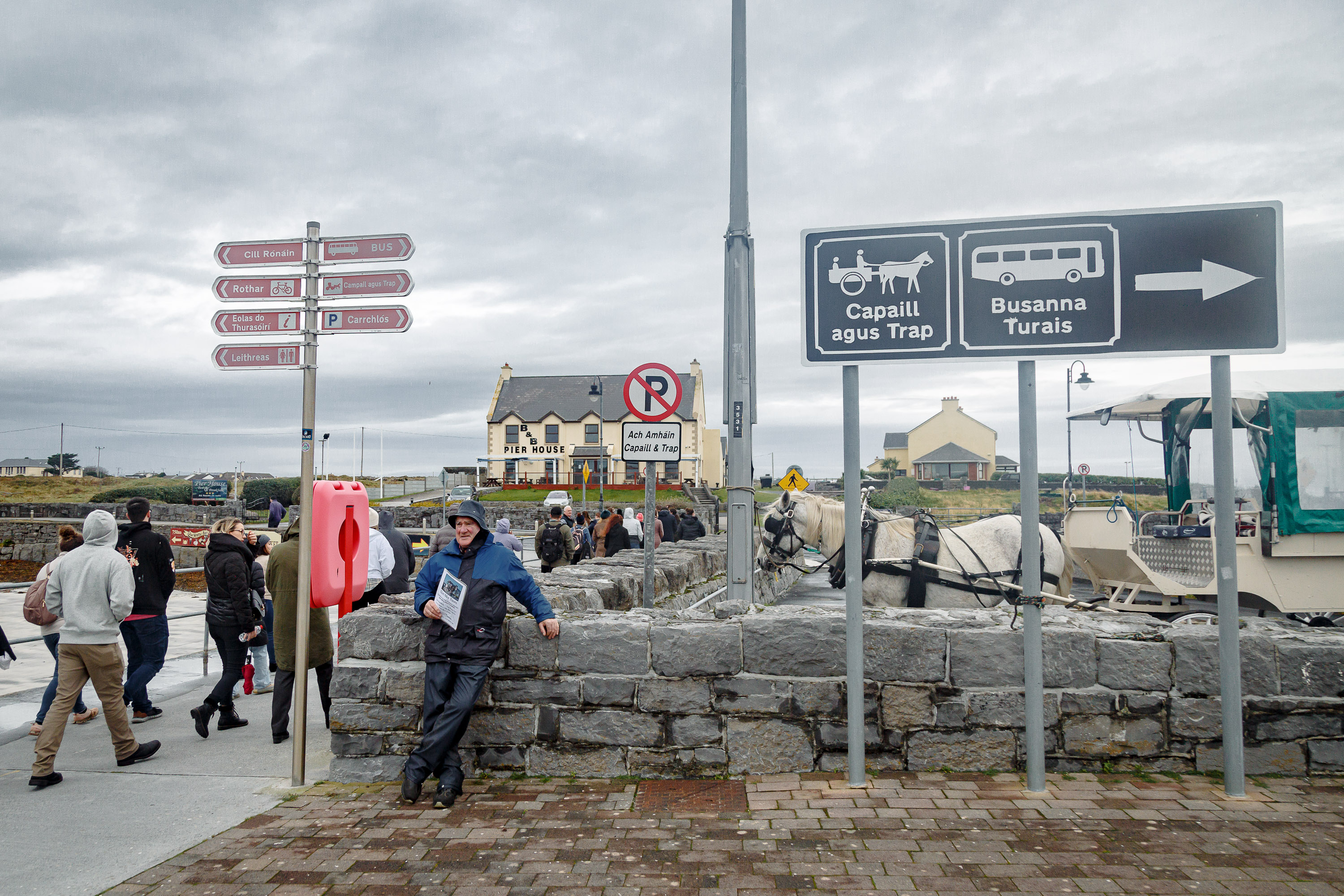 Minority language promotion projects in practice and on location
17.11.2022
When talking about the relationship between tourism and minorities, it is always worth studying whether tourism helps language vitality and not just the income of people – as Michele Gazzola, Lecturer in Public Policy and Administration at Ulster University, Belfast noted in his keynote speech of the second panel at the Forum of European Minority Regions in Galway, Ireland on Friday, 11 November 2022. He pointed out that the development of the local or regional economic system can be detrimental to the vitality of a language when it disrupts the environment in which the speaking community lives or when it pins it to the nostalgic representation of a lost past. Because there is not necessarily a positive relationship between local economic growth and the protection and promotion of minorities, social policies such as affordable housing, care centers, public transport, access to broadband and quality education can have an important role in reducing the number of people moving out by increasing the quality of living. This way, local and minority communities can be saved, and social policies can become language policies.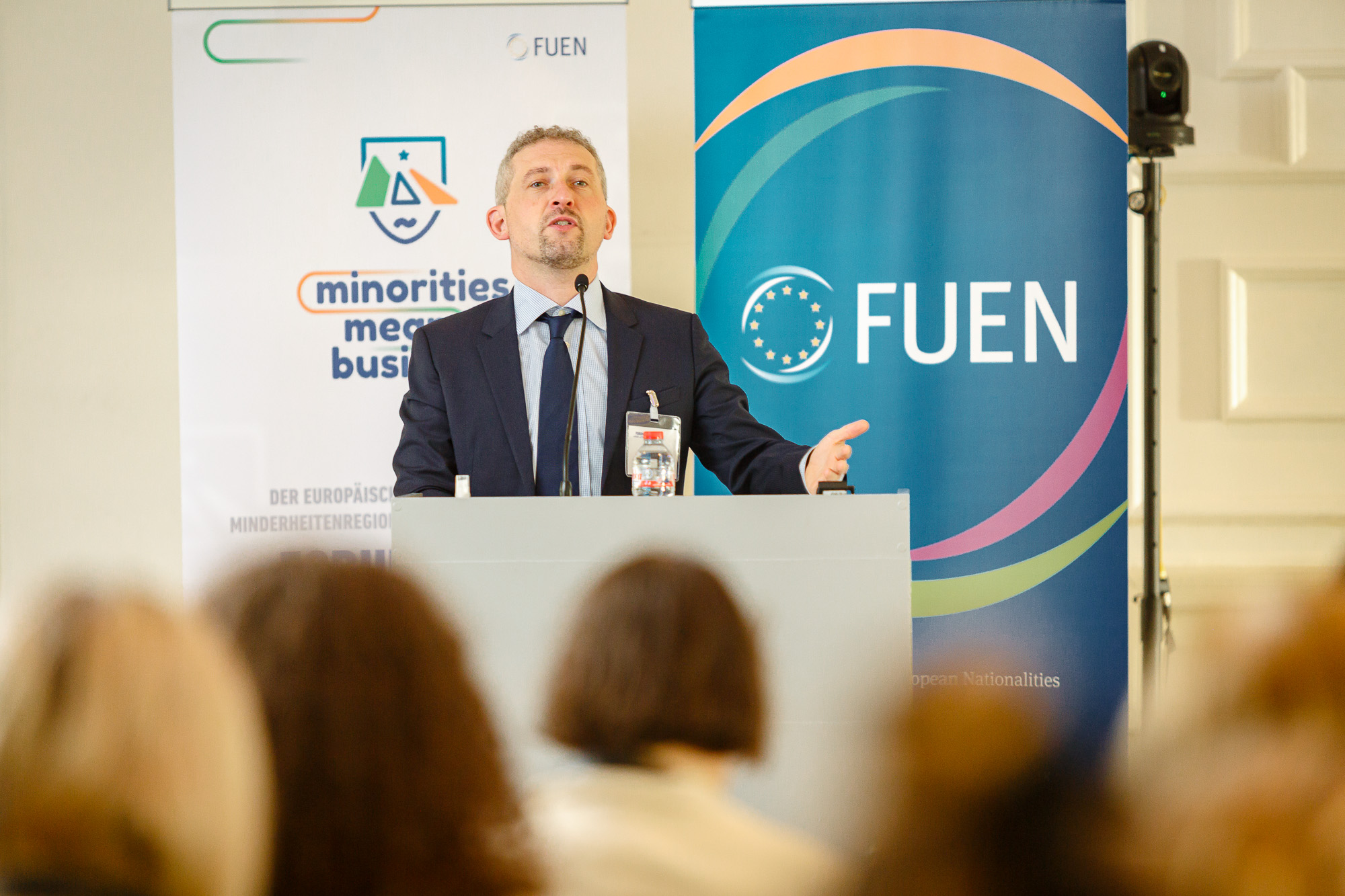 The panel, entitled Minority language promotion projects in action offered a chance for participants to collect best examples from Ireland to Transylvania. Siubhán Nic Grianna, Manager of Language Planning at Údarás na Gaeltachta, presented how they support the promotion of Irish in client companies throughout Gaeltachta (the Irish-speaking areas of the country) – quite successfully, as there are 8000 Irish speakers employed in Udarás-supported companies. According ot her, they face many similar difficulties as other minorities do, for example the move of young, educated workforce and difficulties in recruiting qualified Irish-speaking workforce. They have an economic, a cultural and a social mission: they aim to promote and grow Irish as a living community language, to support economic growth and job creation, to consolidate and grow viable Gaeltacht communities.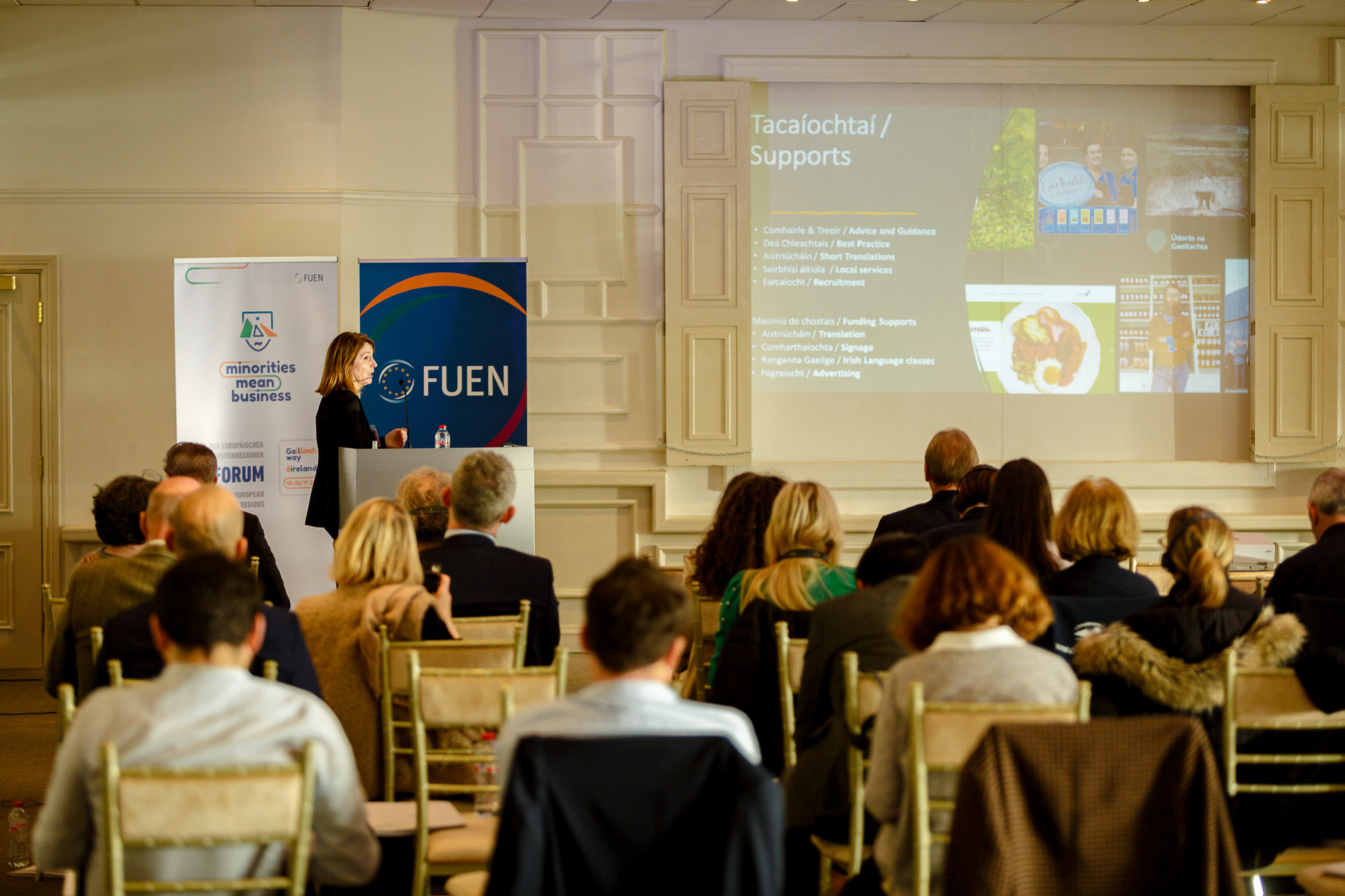 Gaillimh le Gaeilge concentrates on increasing the visibility of written Irish in Galway, as Bríd Ní Chongholie presented. They achieve this through offering translation services, general support and courses for businesses to become bilingual, by organizing bilingual business events, and they also initiated the Placename Committee with the city council. Their activity is mainly supported by businesses.
István Horváth, Director of the Romanian Institute of Minority Studies presented the Igen, tessék! (Yes, please!) campaign which helps customers identify the shops and businesses where they can use Hungarian language. This not only benefits the customers but is also culturally sensitive marketing businesses can profit from. Currently more than 450 businesses are associated to the movement, but transnational retailer chains are considerably harder to be convinced to join in, even in the areas where Hungarians are in a relative majority. Some of them expand without ethnic marketing and servicing strategy, and some adopted multilingualism only after local pressures and as an effect of competition from local chains using ethnic marketing strategies.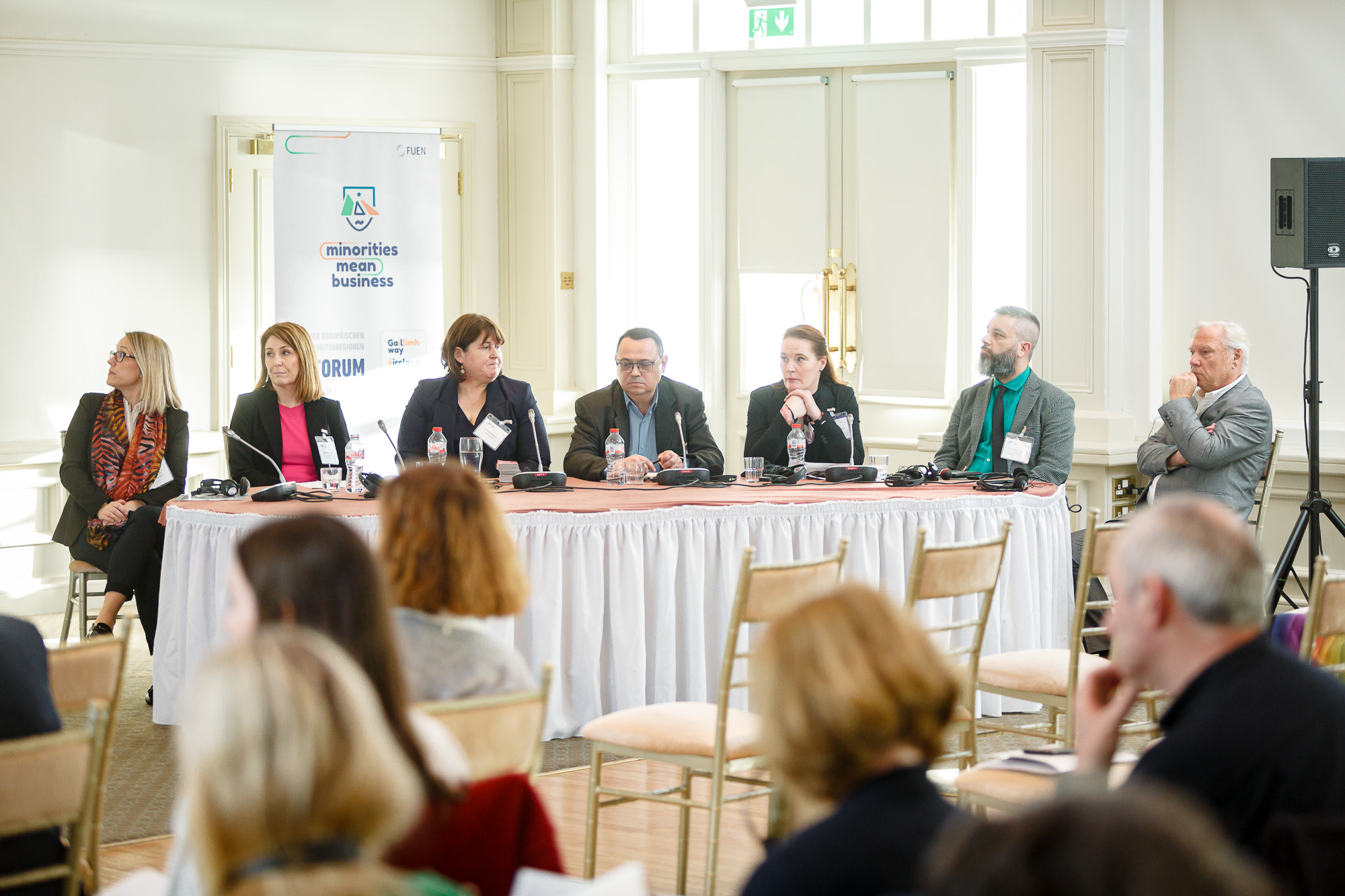 Anna Jungner-Nordgren, International officer of The Swedish Assembly in Finland presented their successful year-long campaign in Helsinki aimed to encourage Finns to use more Swedish. Private, as well as state-owned companies were targeted, they facilitated cooperation between Finnish and Swedish language schools with a bilingual play, and gave general visibility for the campaign by free postcards, seminars and events.
FUEN Vice President Bahne Bahnsen presented the success story of Migge's Danish Bakery, the most famous bakery in Flensburg, Germany. Marc Jiménez i Agulló, director general for language policy and multilingualism in the Valéncia region, talked about the use of Catalan in the private sector in Valencia. Andrea Vukelić, consultant in the Serb National Council of Croatia presented their bilingual campaign to make Serbs more visible in the country and about their project aimed to empower Serb women through courses in which they reinterpret traditional motifs. After this course, many women from villages started to make local souvenirs, opening small shops.
Youth-related projects were also presented at the Forum. Seán Ó Coinn, CEO of Foras na Gaeilge explained their community schemes for young people and the funding opportunities they offer for youth and voluntary organisations, for programmes focusing on Irish teaching through activities led by school people themselves. 27 thousand young people take from all over the country take part yearly in Irish residential courses, and summer day camps are also very popular. According to her, the Language Planning Initiative has the most significant role for the youth in learning Irish, thanks to the seven-year language plans funded by government.
Language planning executive Hannah Ní Dhoimhín from Údarás na Gaeltachta presented the new initiative Glúin Z (Generation Z). Recognising the importance of young people in language revitalization, Glúin Z acts by the principle "of young people, by young people, for young people. "Today's youth is the most socially and politically active generation, and we wanted to tap into that optimism. rather than focusing on language-related activities, Glúin Z focuses on areas of interest for the youth, like climate change and human rights", she explained.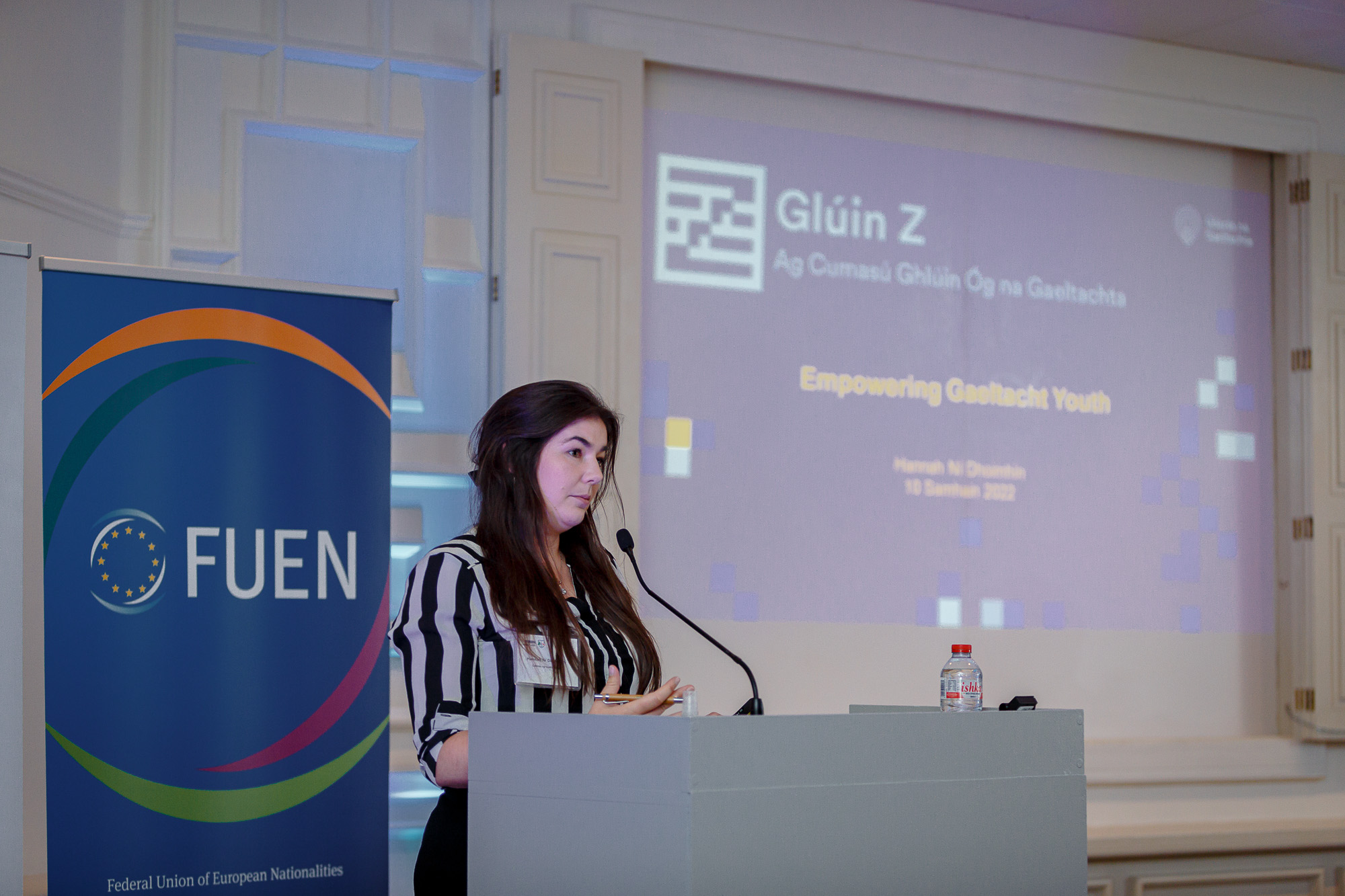 Jean-Pierre Levesque, Vice President and Marie-Noëlle Rinquin, international relations officer of Institut Culturel de Bretagne talked about the situation of Bretons in France. Currently, there are 207,000 speakers of Breton, but their numbers are decreasing: 60% of them are over 70, and schools produces yearly about 100 fluent speakers of the language. They also presented the concept "Produit au Bretagne" (Made in Brittany) to promote local products, known all over France, which unites 500 enterprises, 5000 products an 110,000 employees.
Facundo Reyna-Muniain from Instituto da Lingua Galega talked about media consume and Galician broadcasting in Spain, and mentioned the role of diaspora, which is especially important for Galicians. Galicia is losing many people, especially highly educated youngsters due to migration to Europe, but also to Madrid, but they still have a big role in language use.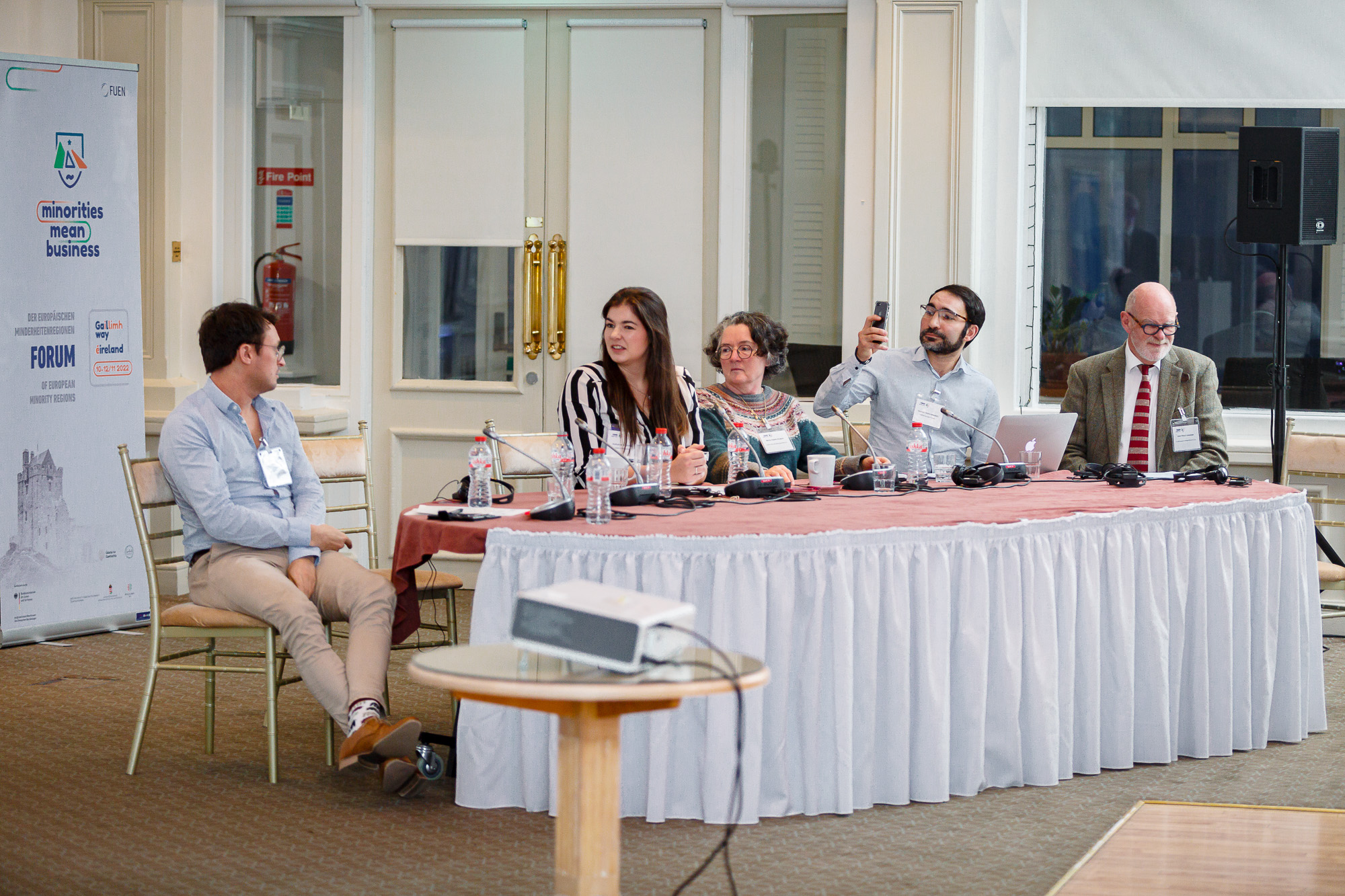 One of the highlights of this year's Forum of European Minority Regions was the study visit to Aran Islands. The three small islands are considered a stronghold of the Irish language and have a total population of 1200. On Saturday, 12 November, the participants of the Forum were taken on a tour of Inis Mór, the largest of the three, with 750 inhabitants. There are two elementary and one secondary school here – all in Irish. During summer, language camps are also organized on Aran Islands, also famous for its knitwear products and its prehistoric stone fonts, from which the most well-know, Dún Aonghasa dates back to 1100 BC.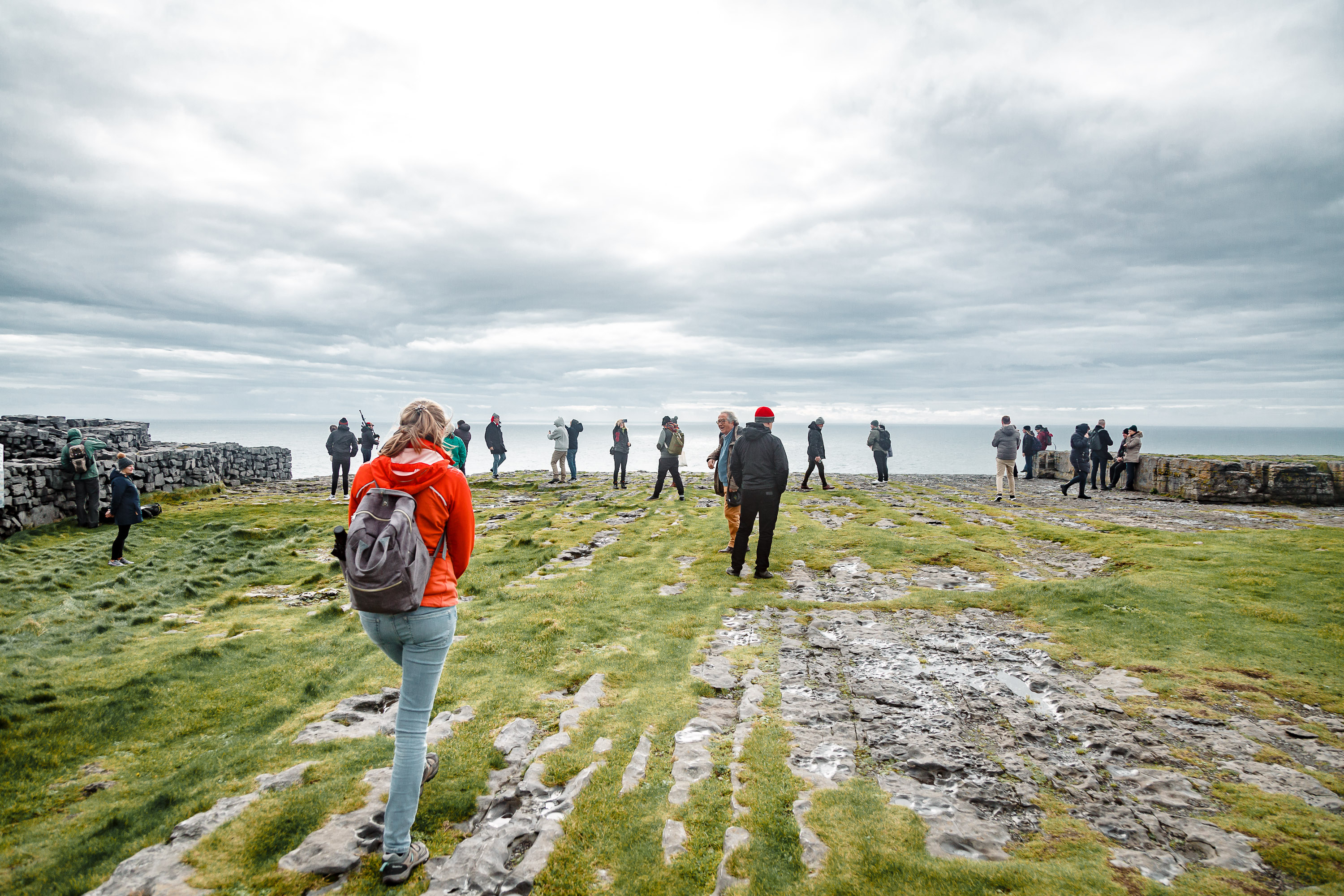 One of the biggest challenges for the community is that more and more young people choose to have higher education, and afterwards they do not move back to the island as there are no jobs which would require their specific skills. As Cathy Ní Ghoill, manager of the community development organization Comcharchumann Forbartha Árann explained, there are several activities on the island which are not profitable, but nevertheless are essential for the community, and their task as a cooperation is to find solutions for them to function. It was with their help that the local waste management plant was built and is functioning – also bringing new workforce and inhabitants to the island. Since many of the islanders bought cars, the public transport is not profitable anymore, but more than a handful of people still depend on it, so it also needed to be saved. She said that they are in contact with island communities from other countries, and they are always surprised by the good communication of Aran Islands with the government. "We are small communities, we do not have many votes, so sometimes we have to be louder. But it is quite easy for us to have a meeting with a minister of government officials, if needed", she explained.