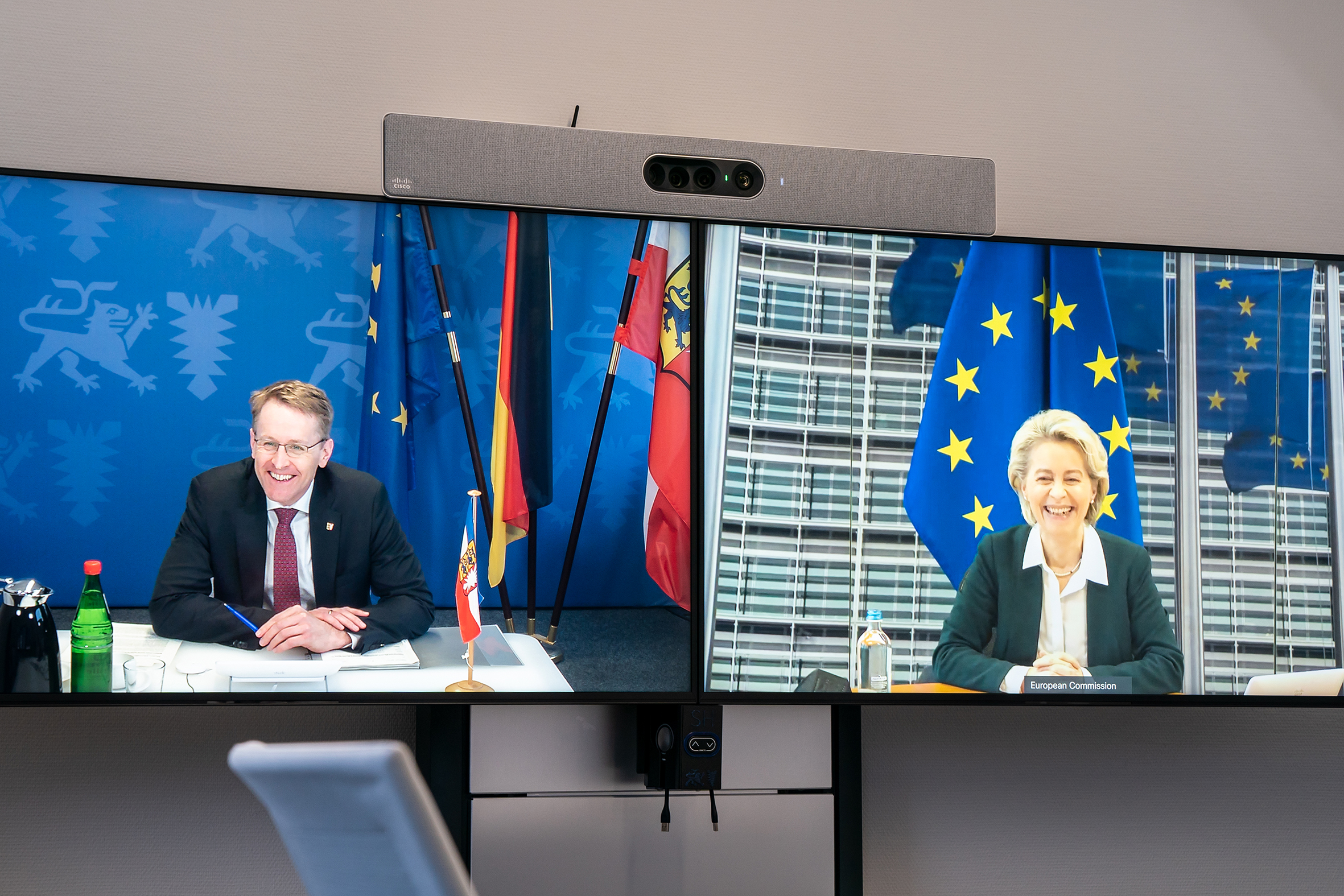 The Minister President of Schleswig-Holstein called for minority protection in his dialogue with Ursula von der Leyen
01.02.2022
In a video conference with the President of the European Commission Ursula von der Leyen, which took place on Monday, 31 January 2022, the Minister President of Schleswig-Holstein, Daniel Günther called for greater protection and promotion of minorities and their languages throughout Europe.
Schleswig-Holstein is home to two minorities and one ethnic group: the Danish minority, the Frisian ethnic group and the Sinti and Roma. There are also four regional and minority languages spoken in the region: Danish, Frisian, Lower German and Romani.
"Schleswig-Holstein has supported the Minority SafePack Initiative (MSPI) from the very beginning," said the Minister President. The initiative had collected almost 1.2 million signatures in 2017 and 2018 for better legal protection of national minorities by the EU. The EU Commission had rejected the initiative in 2021 and pointed to already existing programmes.
Since it was now up to the governments of the Member States, the Committee of the Regions and the organisations of minorities and language groups to achieve improvements, he was very grateful to the Commission President for the constructive discussion, Günther said. "It is in the interest of all Member States of the Union to make visible and support the contribution of linguistic, cultural and autochthonous minorities and ethnic groups to regional development and the cultural wealth of Europe", said Mr Günther.
In this context, Günther praised the EU's central research and innovation programme "Horizon Europe", under whose guidelines it is possible to protect languages as part of the European cultural heritage. He considers this an important step forward for the survival and future of regional and minority languages. Equally important is more research on the significance of national minorities and their languages for society. From the knowledge thus gained, strategies could be developed that would benefit all citizens, institutions and businesses.
In Schleswig-Holstein, the European Academy Sankelmark can help with these projects. Its aim is to bring people closer to the European Union through various events and encounters. It also helps with minority issues and develops solutions to problems between minorities and the majority population. According to Günther, the Academy could make it easier for smaller organisations in particular to gain access to European funding.
Funding programmes such as "Erasmus+" and "Creative Europe" are also to become important contact points at the national level. The "Erasmus+" programme is intended to support education, youth and sport in the European Union. The focus is primarily on exchanges between young people from EU countries, for example through semesters abroad and activities taking place across Europe. With "Creative Europe", the EU wants to promote not only creativity in media and culture, but also cultural and linguistic diversity, for example through minorities. This has supported, among other things, a project to promote open-air museums, in which the Dithmarschen Stone Age Park is involved.
Text and photo: Staatskanzlei SH/ Schleswig-Holstein.de