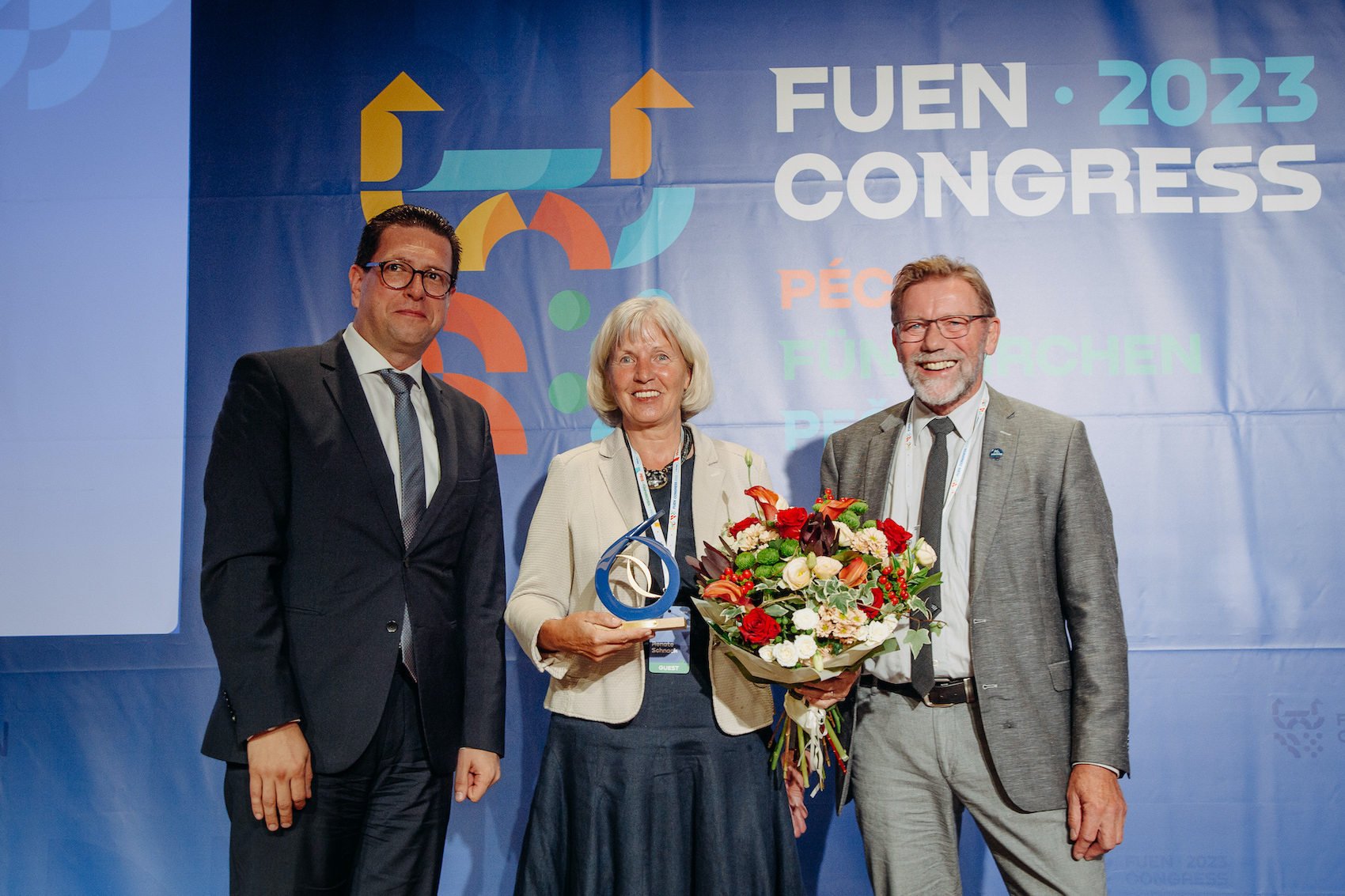 "Diversity and multilingualism is in her DNA": Renate Schnack receives the FUEN Prize 2023
07.09.2023
"You are not only a role model for us, you are a role model for Europe" – with these words FUEN Vice-President Gösta Toft presented this year's FUEN Prize to Renate Schnack today during the 67th FUEN Congress in Pécs/Fünfkirchen/Pečuh, Hungary. The politician from Schleswig-Holstein and former minority representative receives the award for her extraordinary commitment and great dedication to the autochthonous national minorities and language groups in Europe.
"Renate Schnack is above all a role model when it comes to putting objectives and strategies in minority policy into practice. How does she manage it? - She is empathetic, a good listener and has diplomatic skills - and never gives up!" the laudation said. "You continue to stand up for diversity and multilingualism today, it is simply part of your DNA. We are very happy about that in FUEN."
During her work as a minority representative, she has achieved a lot in Schleswig-Holstein and paved sustainable paths. For example, she has succeeded in improving educational opportunities for Sinti and Roma children through a mediator model as well as starting a housing project through which many Sinti and Roma have found a home. "She wants inclusion not only on paper, but also in reality," Gösta Toft emphasised. She was also a key figure for the cooperation of minorities in the German-Danish borderland, establishing the "Dialogforum Norden" and thus a model of cooperation that can lead the way for many minorities in Europe.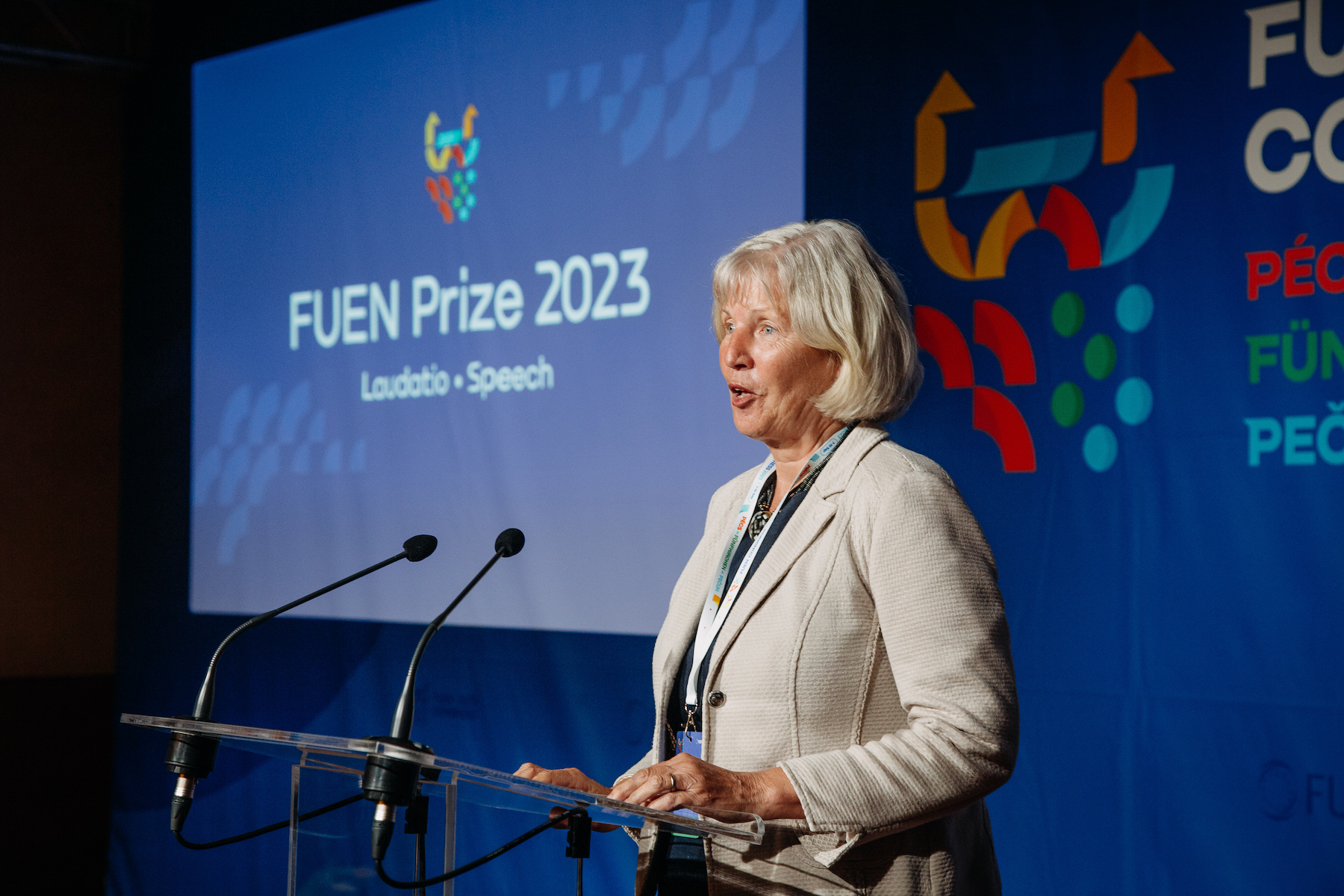 In her acceptance speech, the 69-year-old appealed to society and politics to stand up for the participation of all:
"Open, plural and just societies do not come into being by themselves. They have to be shaped every day and everywhere. It is of great importance that the majority society becomes active and has the desire and will to participate in social processes and developments. (...) The world community has been experiencing for years and also in these days, while we are holding the FUEN Congress here in Pécs/Fünfkirchen/Pečuh, that people, that whole peoples, are persecuted, expelled and destroyed. This is an attack on their lives, their identity and their vulnerable cultural existence (...) Therefore, my request to the government representatives present here, as well as to all member organisations, is to do their utmost to further secure minority rights. Especially in the event that there is a reform of international law!" (Read Renate Schnack's full speech (German) here)
Since 2019, the FUEN Prize has been awarded once a year at a formal ceremony to individuals who are actively engaged in the field of minority protection and who work with dedication and commitment for the improvement and recognition of autochthonous and national minorities and language groups. The previous award winners were 2019 Hartmut Koschyk in 2019, Fernand de Varennes in 2021s Gianclaudio Bressa in 2022.
The FUEN Prize is a work of art entitled "Two Bridges". This is symbolic of one of FUEN's guiding principles: minorities are bridge builders. The object, made of cast resin, gold leaf and wood, was produced by the Flensburg artist Simone Bruhn, who belongs to the Danish minority. It is intended to symbolise peaceful coexistence in Europe and is a sign of the interplay between tradition and modernity.
Learn more about this year's award winner Renate Schnack in this portrait
Photos: László Mihály