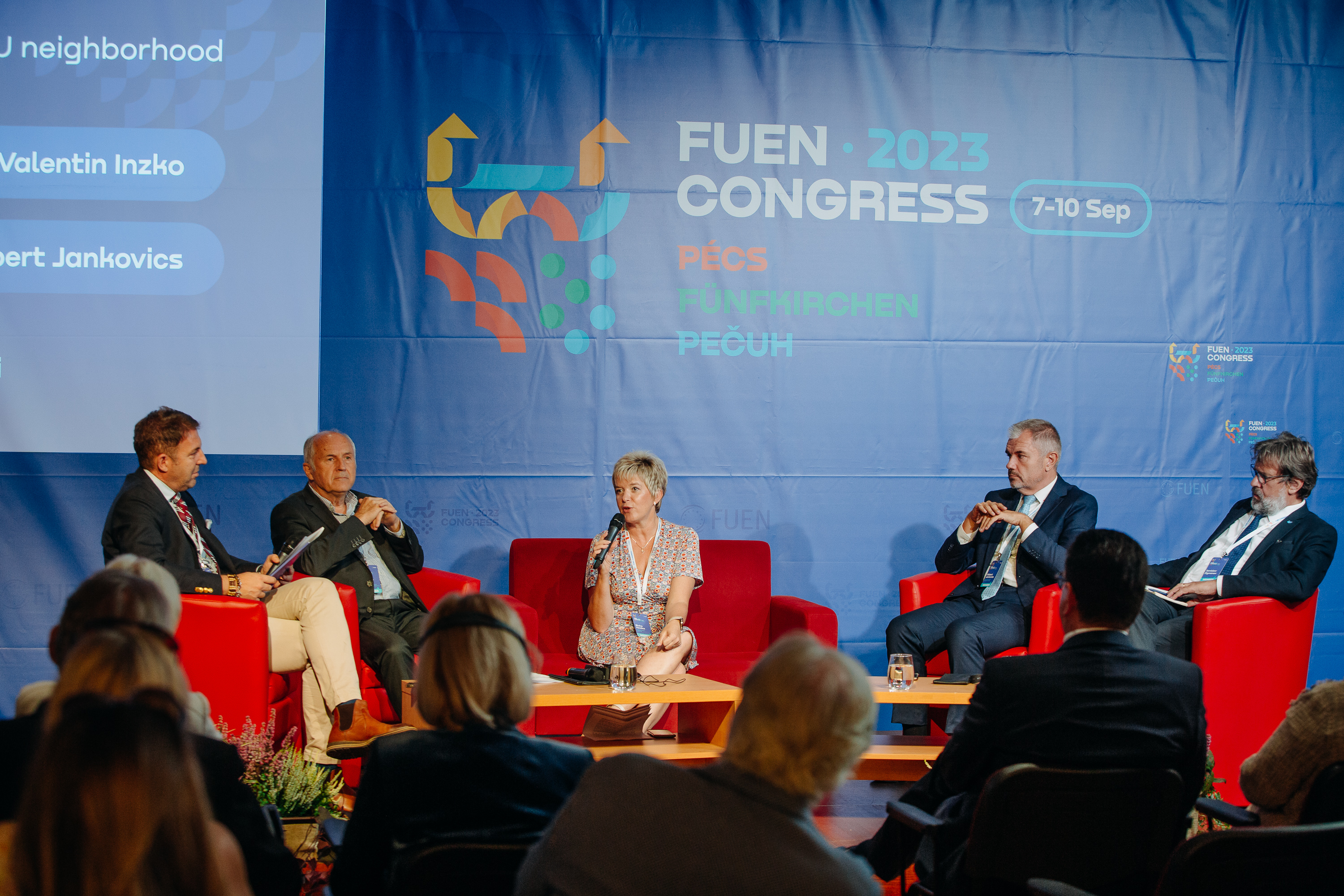 Minority Rights in Europe - Where is the Journey Heading?
08.09.2023
The Balkans can give a lot to Europe, and this is true not only for sports, science or good food, but also for minority rights, which are better in some countries in the region than in the rest of Europe – as Dr. Valentin Inzko, former High Representative for Bosnia and Herzegovina put it in the first panel (title photo) of the 67th FUEN Congress, focusing on Minority Protection in the EU Neighborhood.
Indeed, there is a lot to learn from the examples of Serbia and Croatia, as it became clear during the presentations of Tomislav Žigmanov, Minister for Human and Minority Rights and Social Dialogue of the Republic of Serbia, Elvira Kovács, Vice President of the Alliance of Vojvodina Hungarians and Róbert Jankovics, President of the Democratic Union of Hungarians in Croatia. Minority rights are anchored in the Constitution, the 23, respective 20 recognised minorities have a wide array of personal and collective rights, including political representation. Still, there are problems like hate speech, a phenomenon gaining more ground by means of social media and the internet.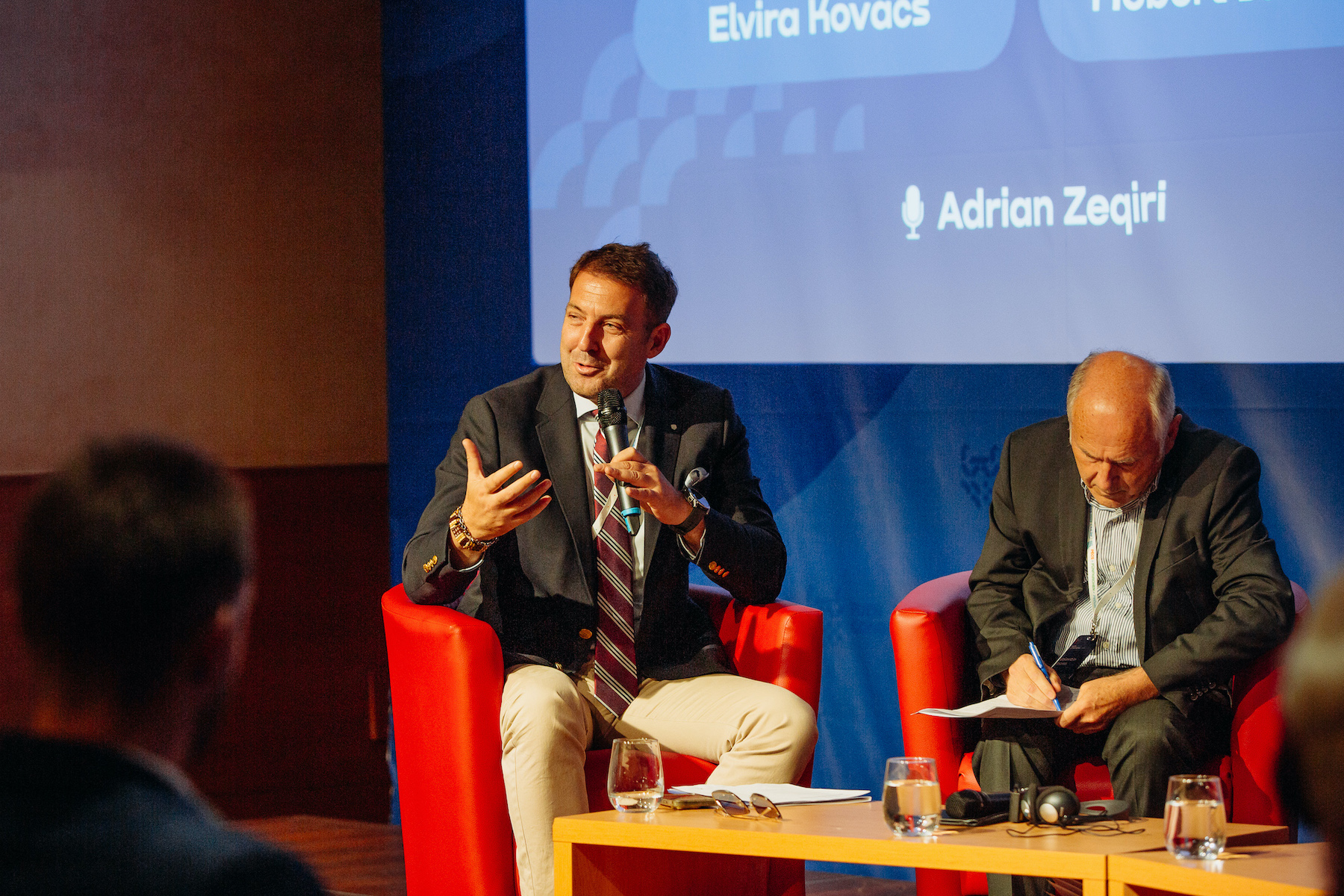 Moderator Adrian Zeqiri, Executive Director of the European Centre for Minority Issues Kosovo concluded that the region is blessed that it operates under larger EU enlargement processes, and talked about the role FUEN can play in this process: "We have seen what FUEN as a mosaic organisation of minorities from all over Europe can bring in expertise and practice to help adopt better policies, but more importantly better processes in terms of minority protection."
How can the role of minorities in democratic processes be strengthened? What role does the FUEN play in this and what role should it take in the future? The second panel discussion of the congress in Pécs dealt with these elementary questions. In doing so, the experts on the panel focused on different priorities:
"A major new field of work for minorities and their umbrella organisation is digitisation, especially automatic translations also of minority languages," explained Prof. Dr. Paul Videsott, Professor of Romance Philology at the Free University of Bolzano and Scientific Director of the South Tyrolean Ethnic Groups Institute. He sees the task of FUEN as helping the member organisations to help themselves, which is urgently needed due to their ever-decreasing populations.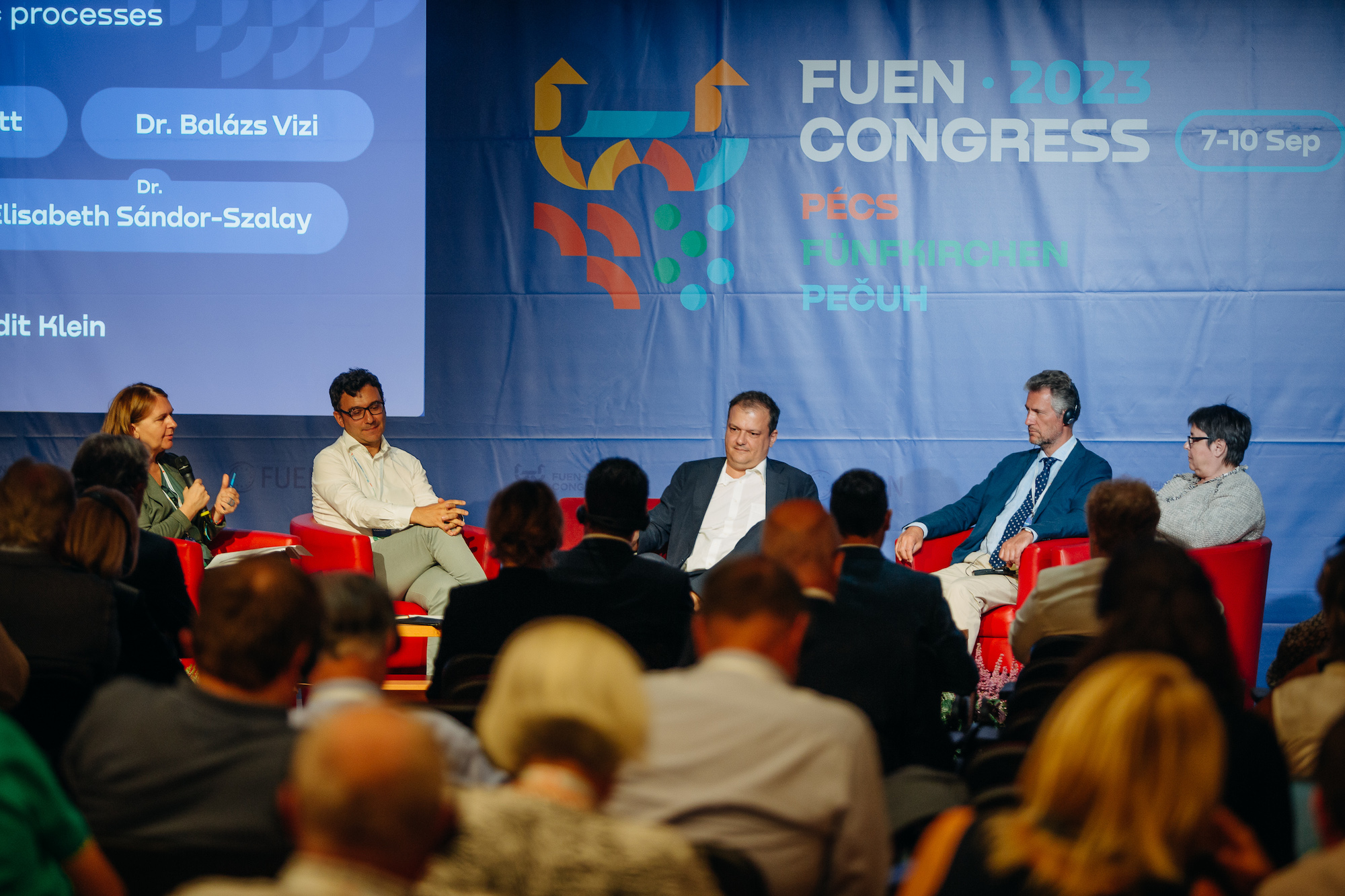 Dr. Elisabeth Sándor-Szalay, Deputy Ombudswoman for Minority Rights and member of the FCNM Advisory Committee of the Council of Europe, sees a key to preserving minority culture and language in approaching the majority in the respective country. "You don't need the law to do that, dialogue is always open to us and FUEN can support that." It is precisely this dialogue that Dr Balázs Vizi, Research Professor, TK Centre for Social Sciences - Institute for Minority Studies, Ludovika University of Public Service, also considers elementary. "The public must learn that autochthonous minorities are not confused with other minorities, for example sexual or religious. Their cultural added value must be emphasised even more."
Dr Thomas Hieber, lawyer and involved in the Minority SafePack Initiative for FUEN, sees an important lever in the 2024 European elections, which will result in a new Commission President taking office. "This person will have to say what he or she wants to do for minorities - and there is broad support for this in the European Parliament, as we have seen with the Minority SafePack.#
Photos: László Mihály