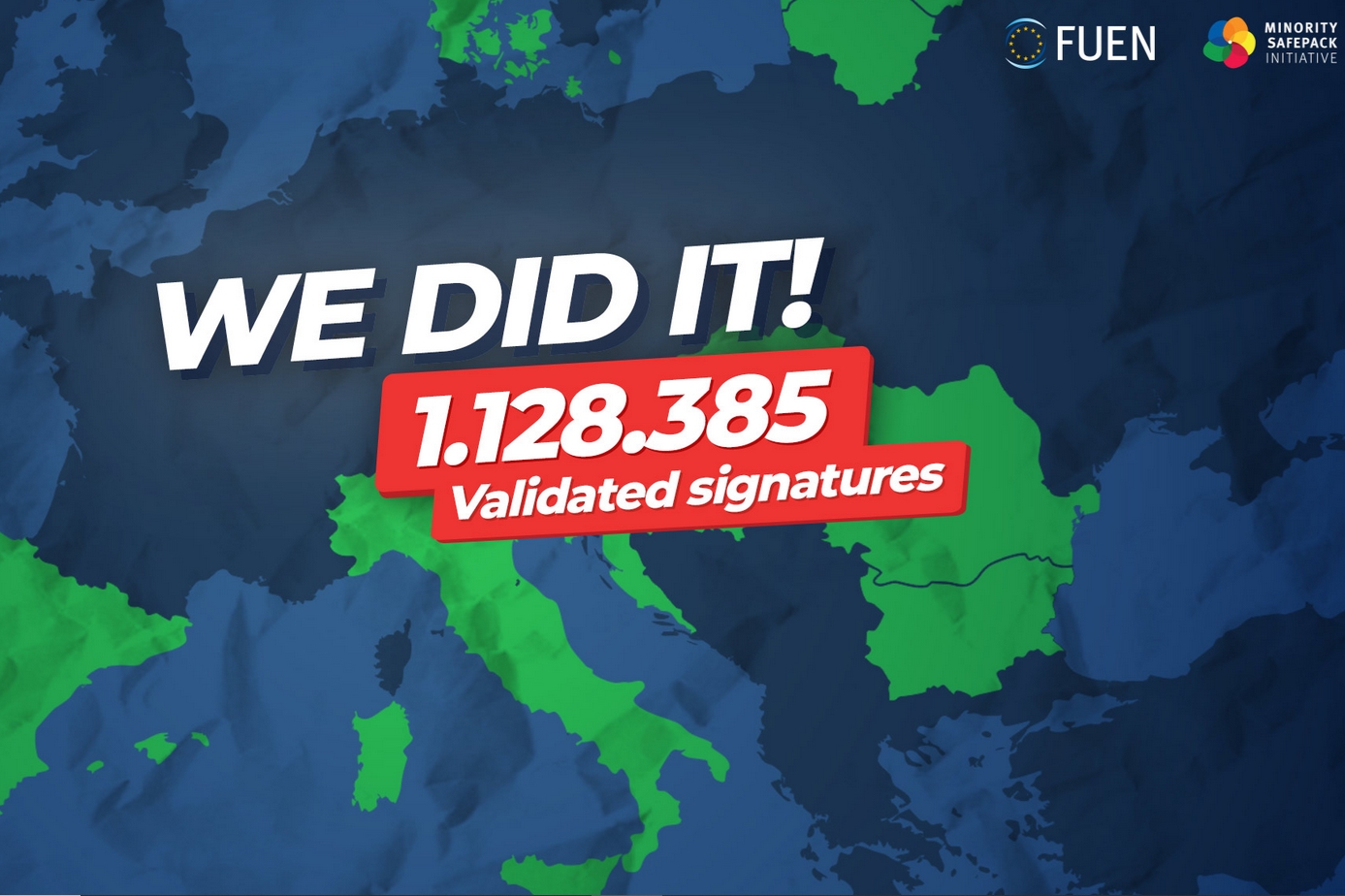 The signatures for the Minority SafePack Initiative have been registered online at the European Commission
10.01.2020
The statements of support for the Minority SafePack Initiative were registered on the European Commission's online system at noon on Friday, 10 January 2020. The FUEN-coordinated campaign began in April 2017, and 1,288,385 of the signatures collected during the one-year period have been validated by the authorities of 28 EU Member States. The European Commission released a press release today about receiving the signatures for the European Citizens' Inititiative which calls upon the EU to adopt a set of legal acts to improve the protection of persons belonging to national and linguistic minorities and strengthen cultural and linguistic diversity in the Union.
After the online submitting a personal meeting will be held within one month at which EU Commissioners and Directors General will meet representatives of the Citizens' Committee and FUEN.
Henceforth, it will be half a year for the European Commission to formulate its position and take a decision on the legislative process. A public debate in the European Parliament open to all interested parties and a plenary debate in the EP will also take place during this period.
"Submitting the signatures is an important step in the history of the Minority SafePack Initiative. This is a prerequisite for presenting our plans in person to the Commissioners and Directors-General in February and submitting the legislative proposals prepared by our team of experts, "said MEP Loránt Vincze, President of the FUEN. "We also see the plenary debate in the European Parliament as a great opportunity, as if it concludes with a positive recommendation, it will put enormous pressure on the EC. Meanwhile, the lobbying in European capitals continues. We aim the EU to take effective measures supporting the linguistic and cultural diversity and the preservation of the identity of the autochthonous national minorities and language groups," he concluded.