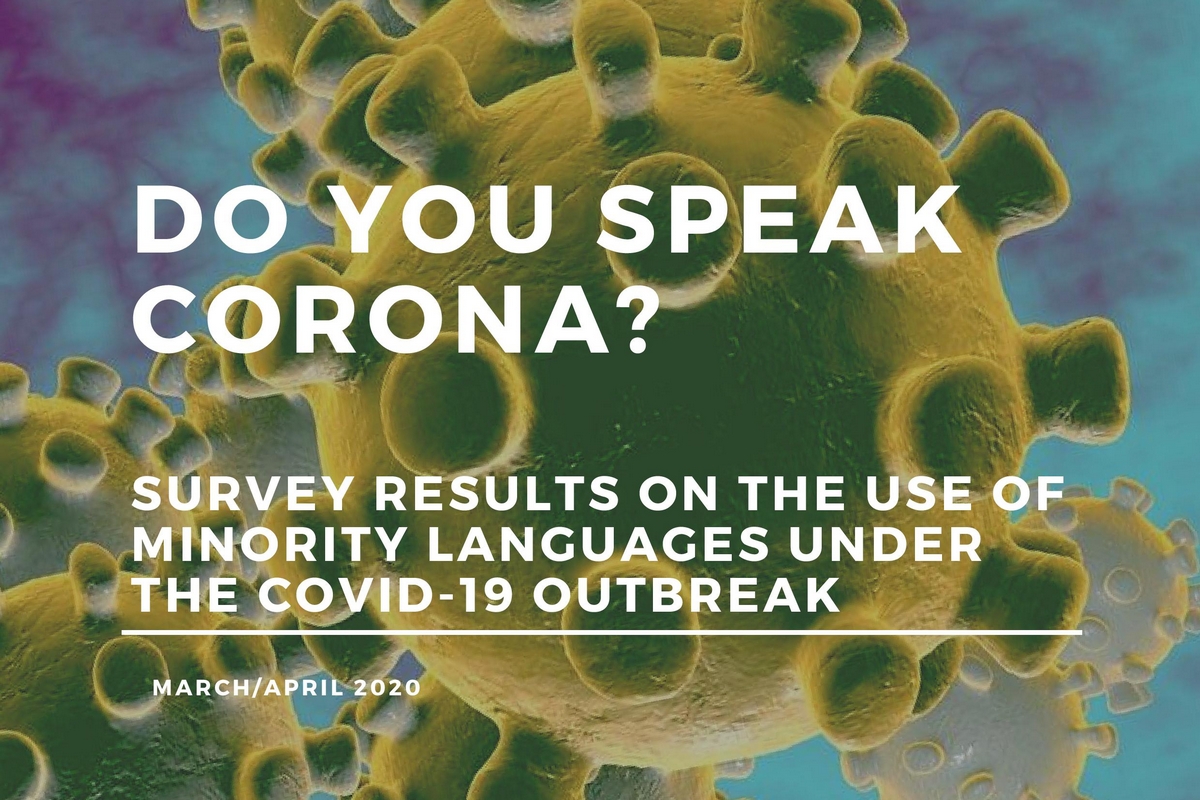 Do You Speak Corona? Many European countries do not offer information on the pandemic in minority languages
11.05.2020
FUEN has conducted a survey between March 31 – April 30 2020 to analyze to what extent communication in minority languages is assured by diverse stakeholders in the Member States of the European Union, as well as among the members of the Federal Union of European Nationalities (FUEN). The online questionnaire focused on the availability of information related to COVID-19 in general, healthcare information related to the outbreak, the existence of an emergency hotline operated in minority language and the availability of online education in mother tongue. The survey was completed for 29 minority groups in 18 European countries.
click here for the whole document (English, PDF, 12 mega)
The survey shows that key general information on the coronavirus outbreak is available in the language of minority communities and language groups in slightly more than half of the cases (52%), provided most often by regional government, minority organizations as well as minority press. Similar to the general COVID-19 related information, key health related information in minority languages is available in slightly more than half of the cases (52% again). In case of health related information, local and regional governments are more active.
Emergency hotlines started receiving an increased volume of calls related to the coronavirus outbreak, in some countries, even before the first cases started to appear. To mitigate this problem, a lot of the counties either raised the capacity of the hotlines or set up special lines only for coronavirus related emergencies. As we were interested to see whether states have thought about the needs of minority groups as well, we included in the survey questions related to the availability of hotlines that could be accessed in minority languages. According to our findings, emergency hotlines are only available in minority languages in only 21% of the cases, partially available in an additional 10% of the cases, meanwhile 69% of the minorities do not have access to such a service.
Since schools also needed to be closed, education moved to the online world. Whether online education on mother tongue could be organized or not was another important aspect of the survey. In 16 occasions, representing 55% of all cases analyzed, online education was organized on mother tongue during the coronavirus outbreak. In another 4 cases, representing 14%, online education on mother tongue was at least partially available, meanwhile in 6 cases, representing 21%, no access to online education was assured. In the remaining 10% of the total cases, access to mother tongue education was not available before the outbreak. Simply put, for the 26 minority groups who had access to mother tongue education before the outbreak, only 16 benefitted of online mother tongue education during the confinement.
When it comes to the stakeholders assuring education in minority languages, we see a rather chaotic picture. Teachers, schools, state and local governments do this job, but most often the schools and teachers are tasked with this job. A lack of necessary infrastructure and training to assure quality online educational materials and tools is a problem identified by many communities. Not only schools lack digital infrastructure but most often pupils do as well, in more isolated areas the problem is reduced to the fact that there is no internet coverage at all.
The survey is not representative for Europe, but we plan to continue it and develop a study including all minorities in Europe, and also to include case studies.