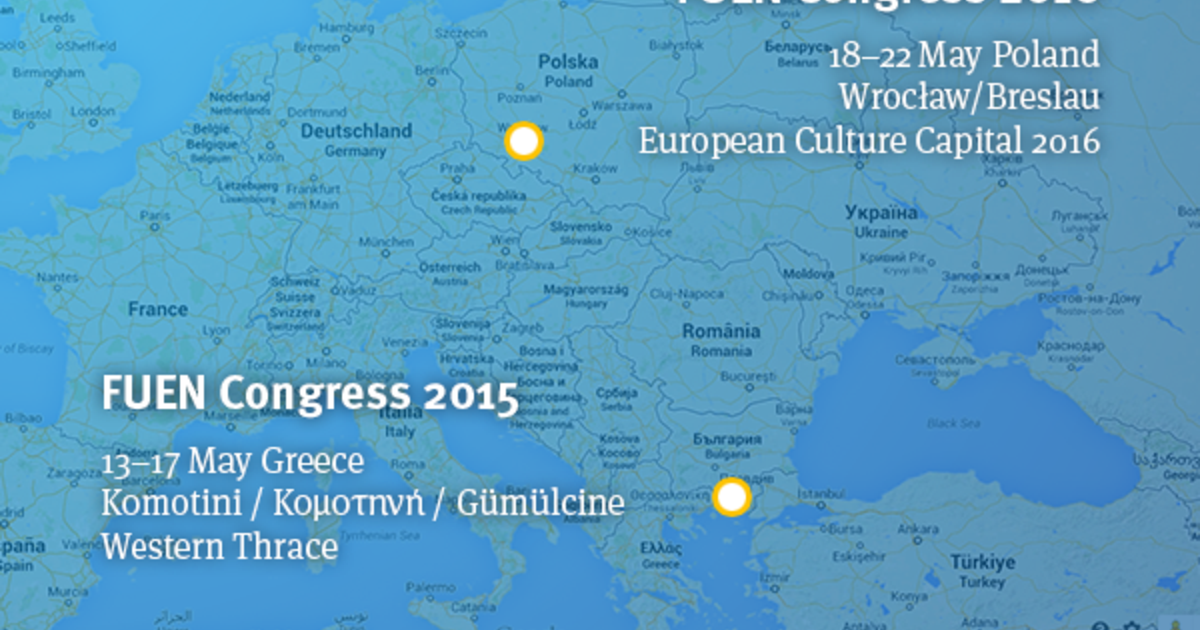 Dates for the upcoming FUEN activities
18.07.2014
Dear friends of FUEN,
It is a pleasure to announce the following dates for the upcoming FUEN activities:

Seminar of the Slavic Minorities in FUEN, from 06-09 November 2014 in Bautzen/Budyšin, Germany. Thema of the Seminar: "Instruments of sponsorship of national minorities in Europe". Read more
Seminar of the Working Group of German Minorities (AGDM) in FUEN, from 26-28 November 2014 in Berlin, Germany.
The first conference on the subject of "The Languages of the Charter in Germany – a Subject for All" on 26 November 2014 in the building of the Deutsche Parlamentarische Gesellschaft (German Parliamentary Association) in Berlin, Germany. Read more
The FUEN Congress 2015 will take place from 13-17 May 2015 at the Western Thrace Turks in Greece, in the city of Komotini. FUEN will organise this congress in cooperation with its three member organisations there, the Federation of Western Thrace Turks in Europe (ABTTF), the Friendship, Equality, and Peace Party (FEP) and the Western Thrace Minority University Graduates Association (WTMUGA).

The FUEN Congress 2016 will take place from 18-22 May 2016 in Wrocław/Breslau – the European Capital of Culture 2016 in Poland, in cooperation with the Verband der deutschen sozial-kulturellen Gesellschaften in Polen (VDG: Germans in Poland).

The EUROPEADA 2016 – the third European football championship of the autochthonous, national minorities – will take place in South Tyrol in June 2016. In January 2015 we will publish a call for teams who want to compete in the tournament. Read more