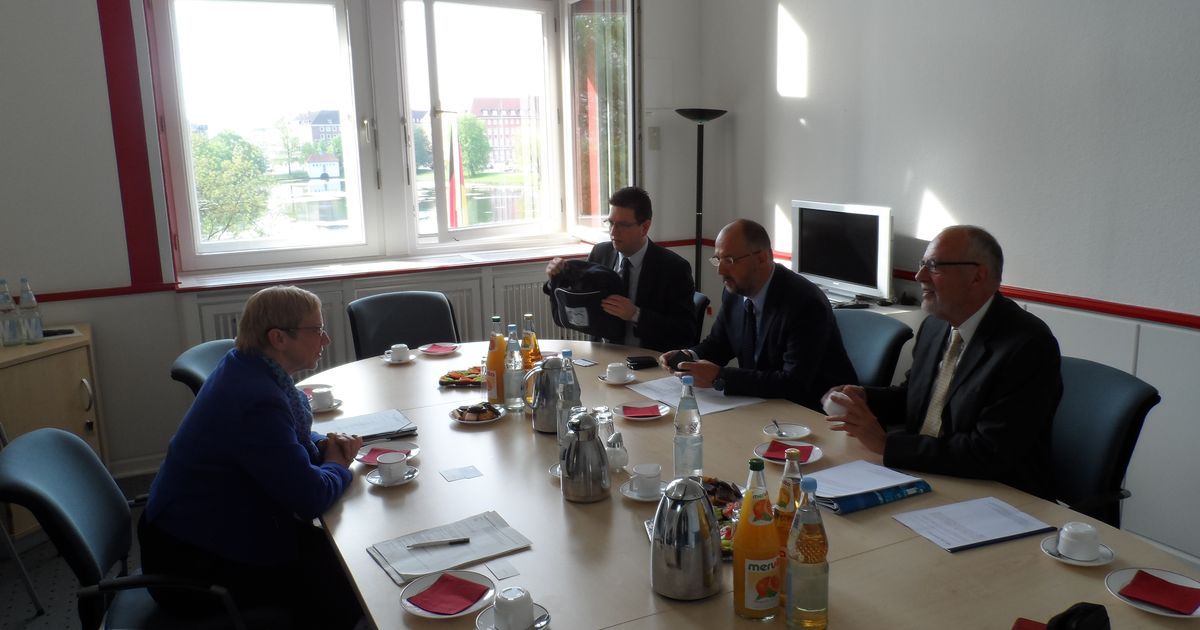 Minister from the North supports the European Citizens' Initiative
19.05.2013
In Schleswig-Holstein, the most northern federal land of Germany, there are three autochthonous minorities – the Frisians, the Sinti and the Danish minority. Since 2012, Anke Spoorendonk from the party of the Danes and Frisians SSW (South Schleswig Voters' Association) has been the first person belonging to the Danish minority who took the office of minister. Schleswig-Holstein has circa 2.8 million inhabitants and the Danish minority counts about 50,000 people, the Frisians have around 10,000 speakers and the Sinti are with circa thousand people.
The president of the Democratic Alliance of the Hungarians in Romania, Hunor Kelemen, and the president of FUEN, Hans Heinrich Hansen came to Kiel, the capital of Schleswig-Holstein for a working visit with the Minister for Justice, Culture and European Affairs, Anke Spoorendonk. Hunor Kelemen has been Secretary of State and Minister of Culture of Romania.
Anke Spoorendonk belongs together with Hans Heinrich Hansen and Hunor Kelemen to the seven initiators of the citizens' initiative of the minorities, which aims at collecting one million signatures and encouraging the European Commission to put the issues of the autochthonous minorities and the regional and minority languages high on the agenda of the European Union. The three discussion partners agreed: "the European Union is doing not enough to protect the cultural and linguistic diversity of the minorities in Europe and to ensure adequate political participation."
"With the European Citizens' Initiative and the Lisbon Treaty we now have the chance to make our voice heard and to increase our influence. I am convinced that minority policies will be decisive for the further development of Europe. We will have to succeed in persuading everyone in the regions of Europe of the fact that minorities are not a burden, but that they have abilities that can be used for the benefit of all", said Minister Anke Spoorendonk after the discussion.
Only with the effort of all minorities in Europe together we will succeed in achieving the goal of one million signatures. We as large and well-organised minorities can put in some extra effort, but we need the support of all, including the smallest groups in Europe. I am very glad that Minister Spoorendonk is supporting our project so actively and so directly", said President Hunor Kelemen.
"I see it as endorsement of our efforts that as an umbrella organisation with strong support from our member organisations we succeeded in transforming the idea of the citizens' initiative into reality. Two years ago, when we first discussed the idea, few had thought that this would be possible", said FUEN President Hans Heinrich Hansen.