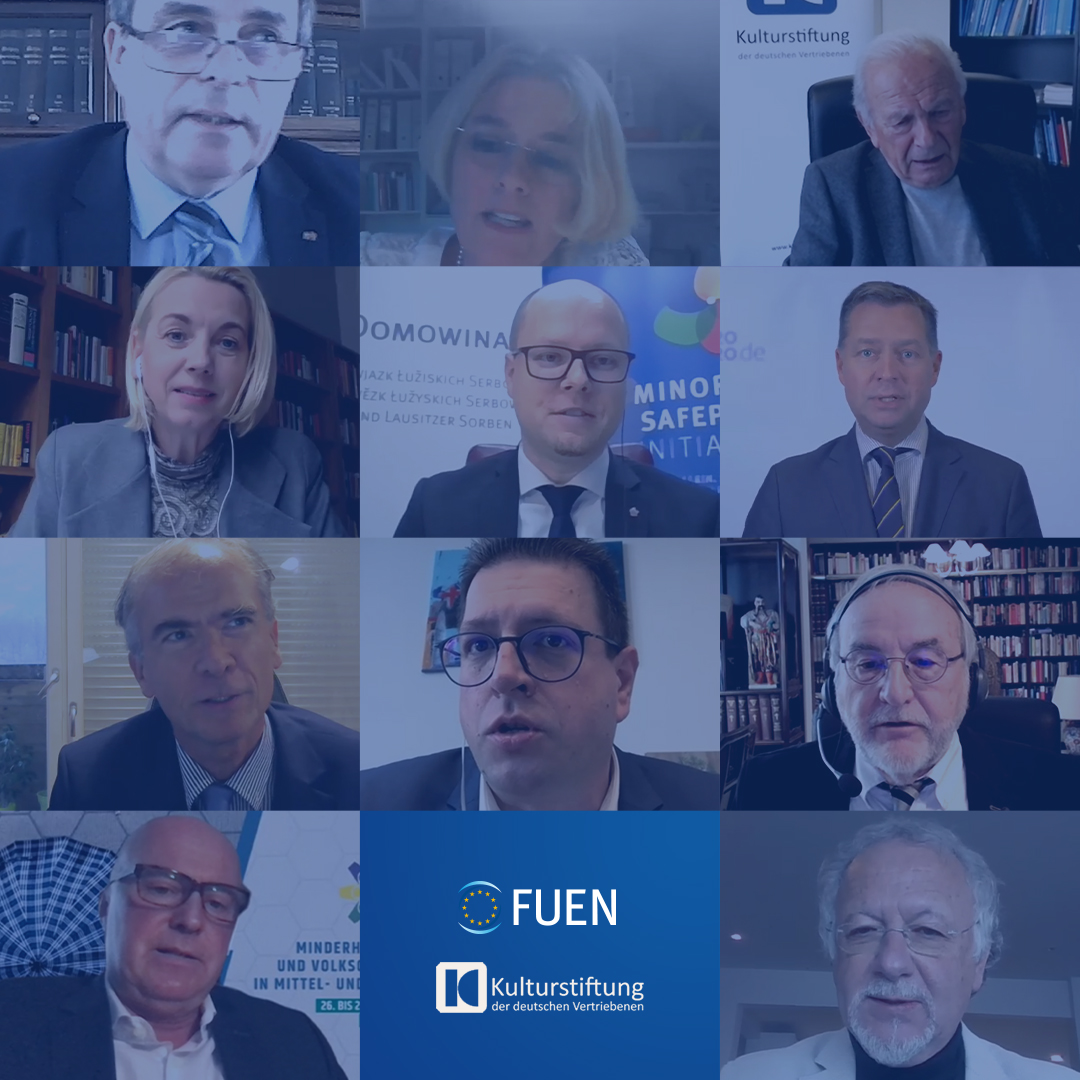 Kick-off of the two-day online conference "Minority Protection and Ethnic Group Rights in Central and Central Eastern Europe"
27.10.2020
The first day of the two-day online conference " Minority Protection and Ethnic Group Rights in Central and Central Eastern Europe " organised by the Cultural Foundation of German Expellees and the Federal Union of European Nationalities (FUEN) focused on urgent issues of minority rights.
After a short welcoming address by the moderator of the event Angelika Mlinar, former Minister for Cohesion Policy in Slovenia and Vice President of the FUEN, Loránt Vincze MEP, President of the FUEN, pointed out in his greeting speech the long debate about the concept of "minority", which also makes the protection of minorities difficult in some European countries. The FUEN is working with its Minority SafePack Initiative to ensure that minorities throughout Europe are given securitized rights.
"Minority rights are an current topic, but not a new one", said Reinfried Vogler, Chairman of the Cultural Foundation of German Expellees. The cultural foundation has been dealing with this important aspect under international law since its establishment in 1974, he added. This first joint event of the Cultural Foundation and the FUEN was an important opportunity to discuss practical experiences and thus find real solutions to existing problems.
In his video greeting Stephan Mayer, Parliamentary State Secretary at the Federal Minister of the Interior, Building and Homeland Affairs, explained that especially now a practical and lived minority protection serves the cohesion in Europe. "Minority policy concerns everyone", he said, it is not dependent on minority affiliation.
Dr. Fernand de Varennes, UN Special Rapporteur on Minority Issues, joined the conference from Canada. Inequality, exclusion and discrimination against minorities are sources of conflict that need to be addressed through concrete legal regulations, he explained. In order to do this, one must address feelings of discrimination, identify them and counteract them with legislation. "If you want peace, you have to create justice", de Varennes said.
Prof. Dr. Dr. hc. mult. Gilbert H. Gornig from the University of Marburg spoke about the definition of minorities under international law. There are many criteria that could be used, but a uniform definition of minorities is missing. For example, the differences to the majority population are decisive and autochthonous national minorities are considered particularly worthy of protection.
Prof. Dr. Peter Hilpold from the University of Innsbruck also noted that although the protection of minority rights has been included in the EU's catalog of values since the Lisbon Treaty of 2007, it has yet to be anchored in international law. The protection of minorities is not a privilege, but part of the general system, i.e. the protection of human rights, said Prof. Hilpold.
At the start of the subsequent discussion round, Dr. Beate Sibylle Pfeil, German representative in the Expert Committee on the European Charter for Regional or Minority Languages at the Council of Europe, spoke about her experiences. She noted that the Council of Europe and the EU must work more closely and better together in this area. Due to their small size, minorities were often not in a position to claim their rights directly and needed an intermediary body to which they could turn.
Loránt Vincze MEP added that the factor of self-image must also be taken into account. "Identity is the DNA of minorities," Vincze said. Minority protection is always a process that evolves, he explained. This can be constructive or destructive and the EU must become proactive and also provide financial ressources to strengthen minority rights.
Hartmut Koschyk, former Parliamentary State Secretary and former Federal Government Commissioner for Matters Related to Ethnic German Resettlers and National Minorities, also said: "Minority policy is funding policy". It is about full equality and not only acceptance. For this reason, he said, one should not just rest on the EU's ban on discrimination, but should create concrete legal frameworks.
Dawid Statnik, Chairman of the Minority Council of the four autochthonous national minorities and ethnic groups in Germany, spoke of his experiences with the implementation of already existing legal regulations. For example, bilingual signage is sometimes an obstacle. Therefore, one has to draw clear lines and say what is important for the minorities. But in doing so, one always runs the risk of getting into a paralyzing discussion about justification. That is another reason why it is important to address these problems not only in expert panels. Instead, it is necessary to create a broad awareness and to position these concerns as a topic for society as a whole.
Subsequently, Bernard Gaida, Speaker of the Working Group of German Minorities within the FUEN (AGDM), explained that the recognition of minorities is only the beginning. Especially in Central and Central Eastern Europe it is not only about the preservation of language and culture, which were systematically suppressed for decades, but also about their revival. The Council of Europe, with its Committee of Experts on Minority Languages, also had the opportunity to do more with best-practice conferences. Dr. Beate Sibylle Pfeil agreed and said that such 'follow-up conferences' were extremely important. But the Council of Europe had only limited possibilities for this.
In conclusion, Dawid Statnik addressed the problem that the European standards system is often perceived in the individual nation states of the EU only as a recommendation. This is another reason why robust legal regulations are necessary. As a positive example he mentioned the structural change in the settlement areas of the Sorbs in Germany. Here the minority had been considered.
The first conference day ended with Dawid Statnik's statement that a minority can define itself. The number of its members was not important and the protection of their rights had to be guaranteed.
The conference is available as a recording on the YouTube channel of FUEN and the Cultural Foundation: