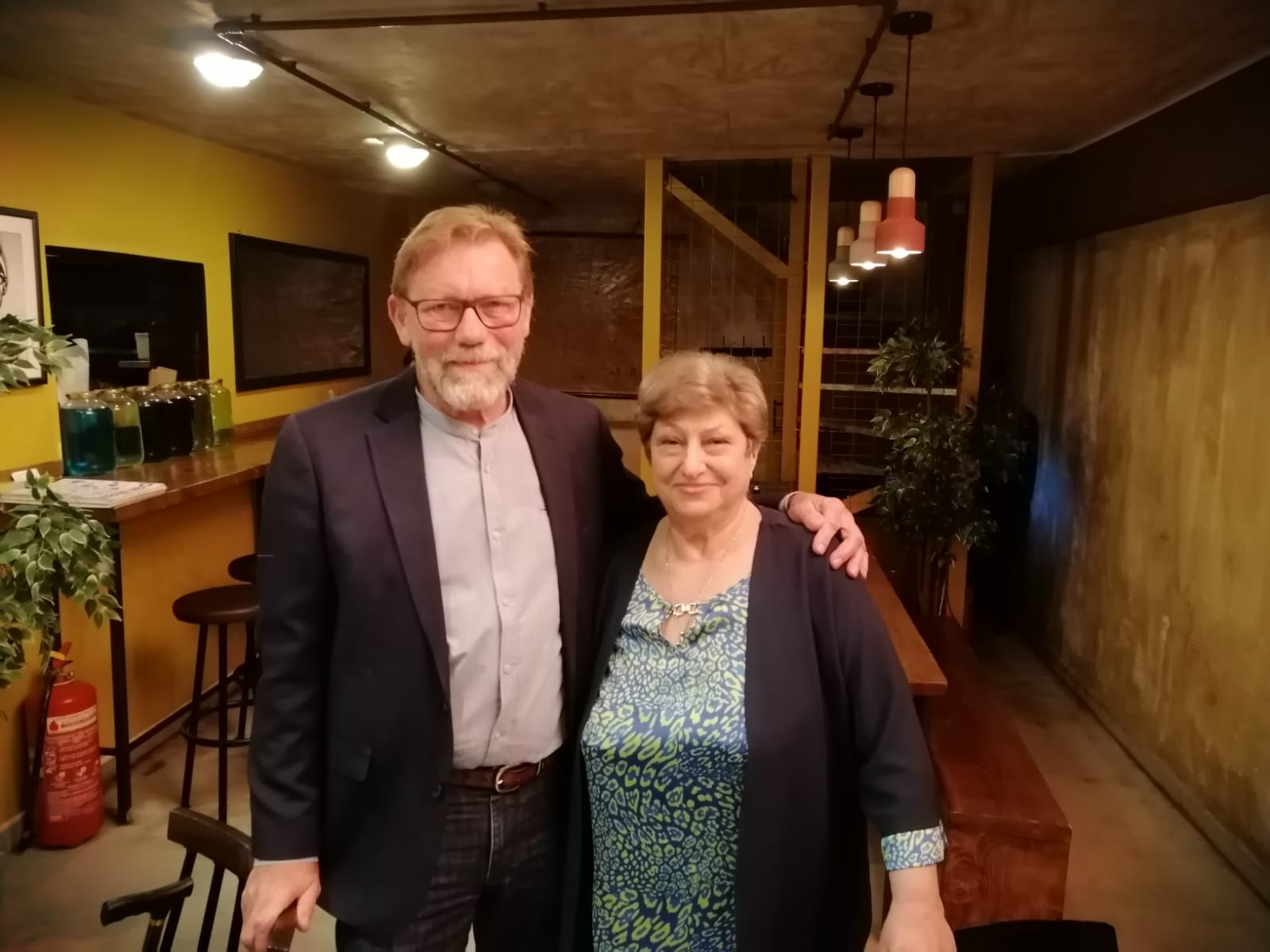 A strong woman from Mariupol and the war: FUEN Vice-President meets the Chairperson of the Federation of Greek Societies of Ukraine
16.05.2022
"There were countless air raids, vacuum bombs and phosphorus bombs – there was always bombing." With 23 other people, Alexandra Protsenko-Pichagi had taken refuge in a cellar of a house near the university, without bread or water – at minus twelve degrees outside and minus seven degrees in the cellar. Tea was made from melted snow. "The hot tea saved my life," she recalls. During the rare glimpses outside, horrific images burned themselves into her mind.
It was an emotional meeting that our Vice-President Gösta Toft recently had in Thessaloniki (northern Greece): he spoke with Alexandra Protsenko-Pichagi, the Chairperson of the Federation of Greek Societies of Ukraine, whose main office was until recently located in the Ukrainian city of Mariupol.
Unfortunately, the war was not new to her. Already since 2014, 45 Greek villages along the front line were bombed, she reports. As chairperson of the Greek community for eight years, she tried to help where she could – among other things, with the water supply, lessons for the children and with events to escape the war for a short time.
Alexandra Protsenko-Pichagi described how the heavy bombardment of Mariupol on 2 March forced her to take shelter in bunkers. About two weeks later, she was able to leave the cellar. With the help of friends, she managed to escape in private cars and minibuses to Zaporizytsya and from there to Thessaloniki, Greece, where she was able to stay with her daughter. "But it is not easy to get back into life, not even for a strong woman like Alexandra Protsenko-Pichagi," Gösta Toft explains after his visit.
Fortunately, young helpers from the Greek-Ukrainian Initiative are at her side. There are Iana and Ivan, for example, who interpret at the meeting with the FUEN Vice-President.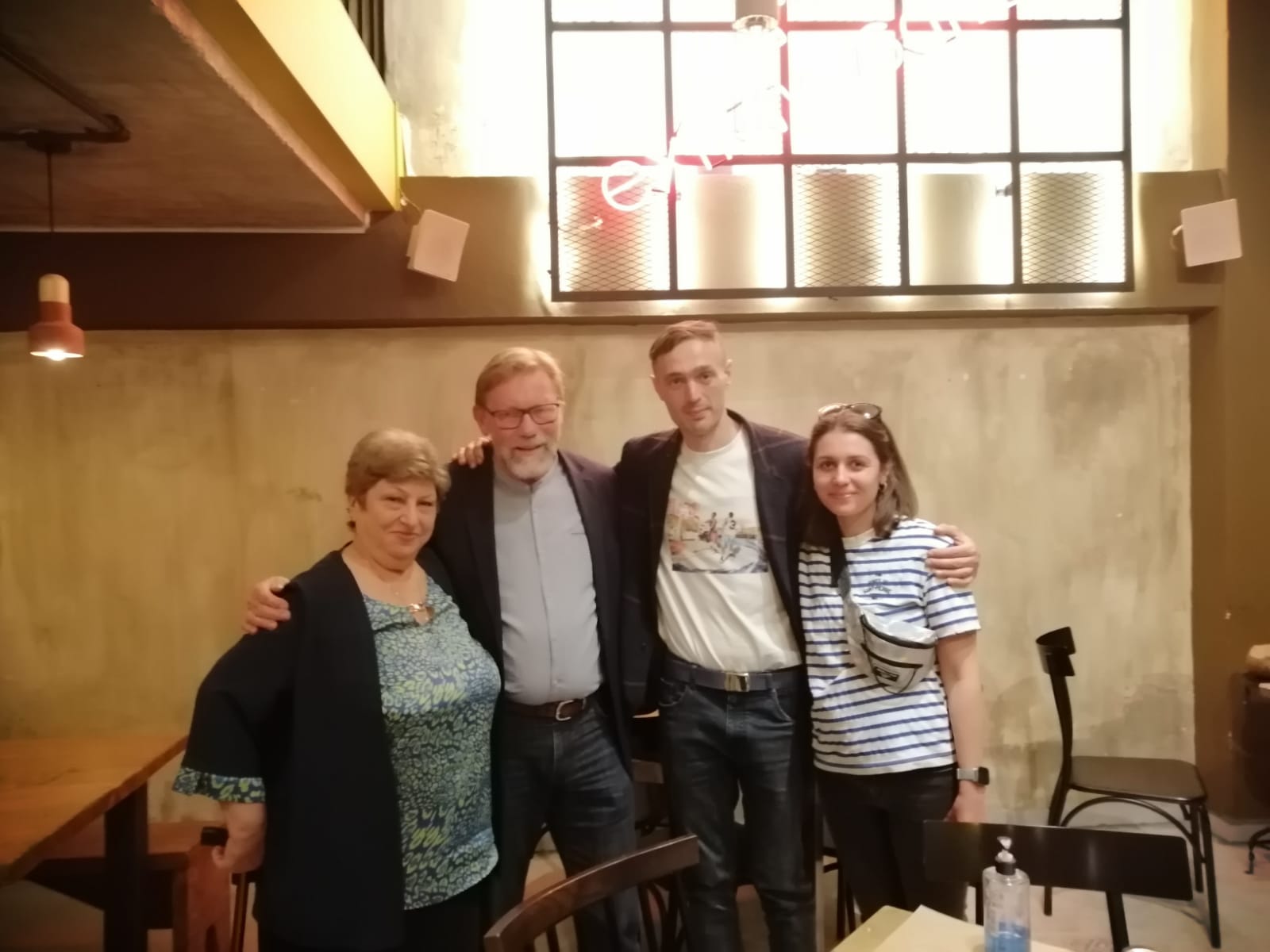 Among other things, the aid initiative supports the Ukrainian refugees in their integration in Thessaloniki, but also sends aid and food to Ukraine. "It is becoming increasingly difficult to procure durable food and there is a lack of buses and trucks for transport," Ivan Harlonov tells us. But what unites them all is enormous confidence. "They are fighting for their cause because they firmly believe that they can help bring about a turnaround in Ukraine. Alexandra Protsenko-Pichagi is indeed distraught about the situation in Mariupol, the many human victims and the loss of her house and the well-known Greek museum. Nevertheless, she and her young colleagues want to go back when the Russians are defeated and want to help rebuild Mariupol and Ukraine," reports Gösta Toft. "They appeal to everyone: Help Ukraine!"
One way to help is through our FUEN donation campaign "Minorities for Ukraine".
Background:
The city of Mariupol was founded by Greeks in 1780 after they were deported from Crimea, and 20 other villages were founded around it. Today there are 48 Greek settlements in the area. The city was named in honour of Saint Mary, as the Greeks used her icon to overcome the way from the Crimea to the steppe of Azov.
Credit: Toft/FUEN