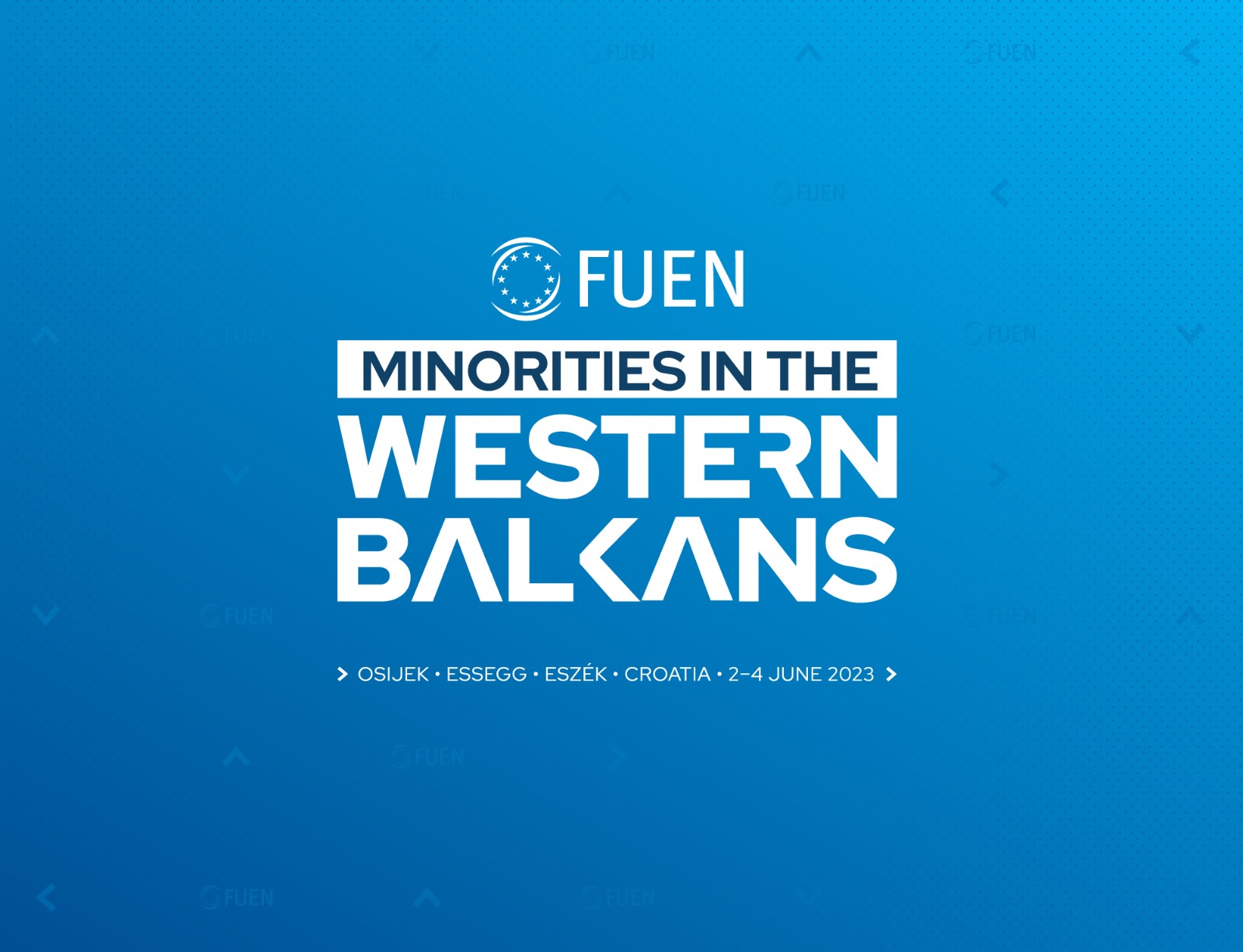 Minorities in the Western Balkans meet at FUEN's conference in Osijek
31.05.2023
Minorities in the Western Balkans face many challenges, some of them similar, but some of them completely different from minorities in other parts of Europe. This is why the Federal Union of European Nationalities (FUEN) considers it essential that their topics become part of the public debate and they gain attention that strengthens the cooperation of minorities and majority, and supports minority communities at all levels.
Therefore, between Friday, 2 June 2023 and Sunday 4 June 2023, in Osijek/Essegg/Eszék, Croatia, FUEN will organise the Minorities in the Western Balkans conference, in cooperation with the Democratic Union of Hungarians of Croatia, the German Society – Organisation of Danube Swabians in Croatia and the Coordination Council and Representatives of the Czech National Minority.
The Minorities in the Western Balkans conference is the first step in a series of constructive and action-oriented dialogues on the existing challenges of national minorities and language groups from the Western Balkans region and possible mechanisms to address them.
The goal of the conference is to foster cooperation among the FUEN Member Organisations, the minority institutions, the local and national authorities and international organisations. We are confident that enabling the expansion of the FUEN's network in the Western Balkans by establishing closer contacts with other minority institutions and NGOs will strengthen our Member Organisations.
We aim to identify possibilities of cooperation between minority organisations and representatives and to develop provisions of support to local authorities and national governments in the field of protection of national and linguistic minorities.
The conference, held at the HDMK Headquarters in Kopačevo will start at 15 CET with the welcoming words of Olivér Várhelyi, European Union Commissioner for Neighborhood and Enlargement, Tomislav Žigmanov, Minister of Human and Minority Rights and Social Dialogue of the Republic of Serbia, Róbert Jankovics, President of the Democratic Alliance of Hungarians in Croatia and Member of the Croatian Parliament, Ivan Radić, Mayor of Osijek, Loránt Vincze, FUEN president, Member of the European Parliament, and Karlo Ressler, Member of the European Parliament, followed by a presentation of the different institutional models of the Member Organisations and the challenges they face.
On the second day of the conference, mother tongue education, the political participation of minorities and the effects of the census will be discussed, while the last panel will deal with antigypsyism, nationalism, discrimination and hate speech.
We will keep you updated on the conference via our social media channels.
For more information on minorities in the Western Balkans, see our analysis report.