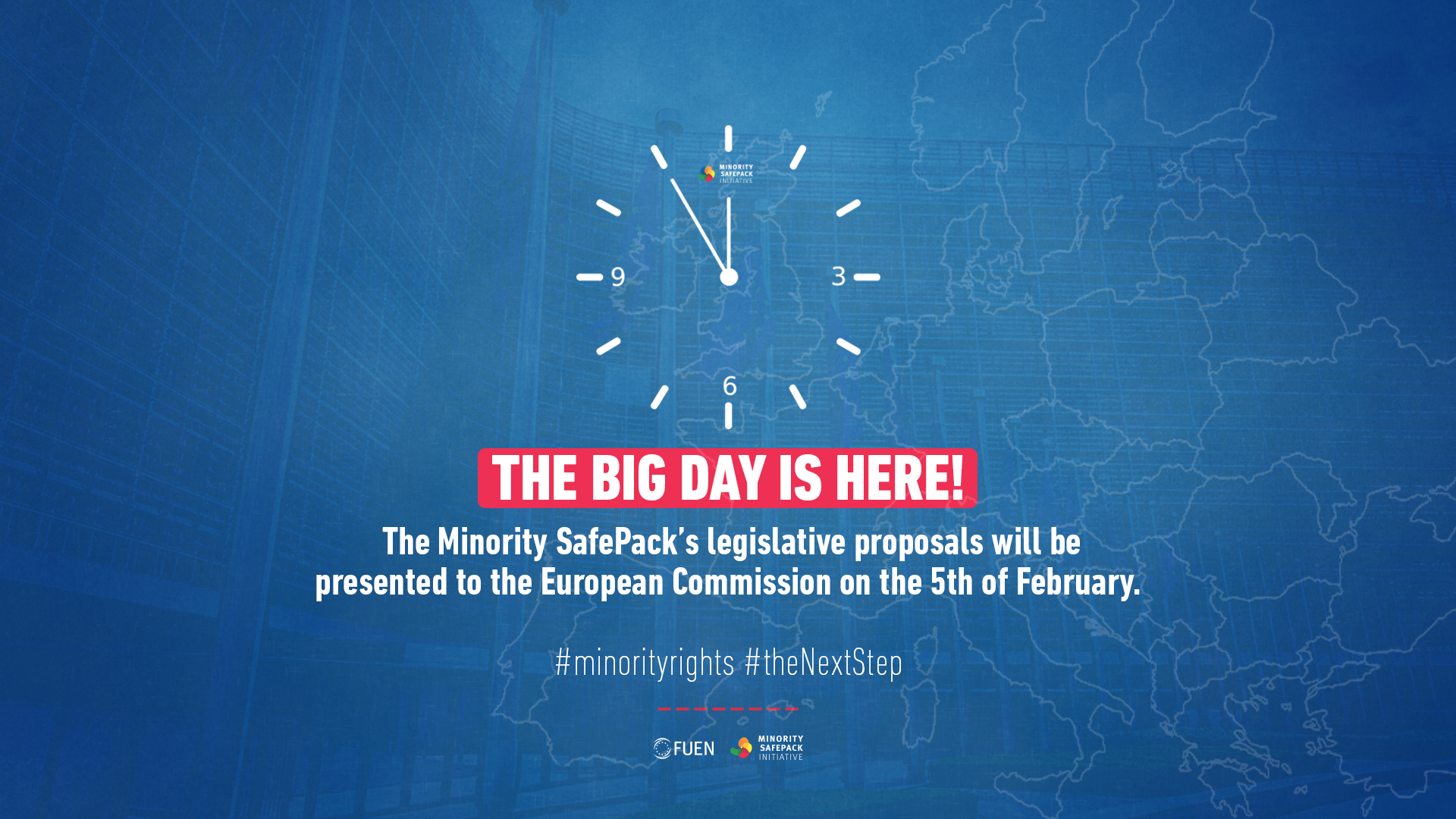 The legislative proposals of the Minority SafePack Initiative will be presented to the European Commission on the 5th of February
31.01.2020
On Wednesday, the 5th of February 2020 the legislative proposals of the Minority SafePack Initiative will be presented to the European Commission in Brussels, Belgium.
With 1,128,385 statements of support, authenticated by the competent national authorities of the 28 Member States of the European Union, the Minority SafePack is the fifth successful European Citizens' Initiative. The Minority SafePack Initiative aims to promote the rights of national and linguistic minorities and ensure their protection at EU level and calls on the EU to use the tools at its disposal in this regard.
The Minority SafePack Initiative is going to be represented at the meeting by its Citizens' Committee, the Presidium of the Federal Union of European Nationalities (FUEN) and a group of international experts. The delegation will present to the European Commission the concrete legislative proposals based on the Initiative.
The closed meeting will take place at 12 AM CET.
Following the meeting, the press is invited to take part in the Press Briefing of the MSPI delegation. The Press Briefing will take place at 14:30 CET in the European Parliament, Anna Politkovskaya (PHS 0A50) press conference room.
IMPORTANT NOTICE to the press: If you do not possess a press accreditation for the European Parliament, please send an email to the Press Office of the EP, before 17:00 on Monday, the 3rd of February, at media.accreditation@europarl.europa.eu. Please specify in your email that you are going to take part in the following event:
| | | |
| --- | --- | --- |
| Wednesday 05 FEB | 14.30 - 15.00 | Loránt VINCZE (EPP, RO) on "Submission of the Minority SafePack ECI and its follow up in the European Parliament" |
We would appreciate if you would also notify us of your plans to attend the Press Briefing at press@fuen.org