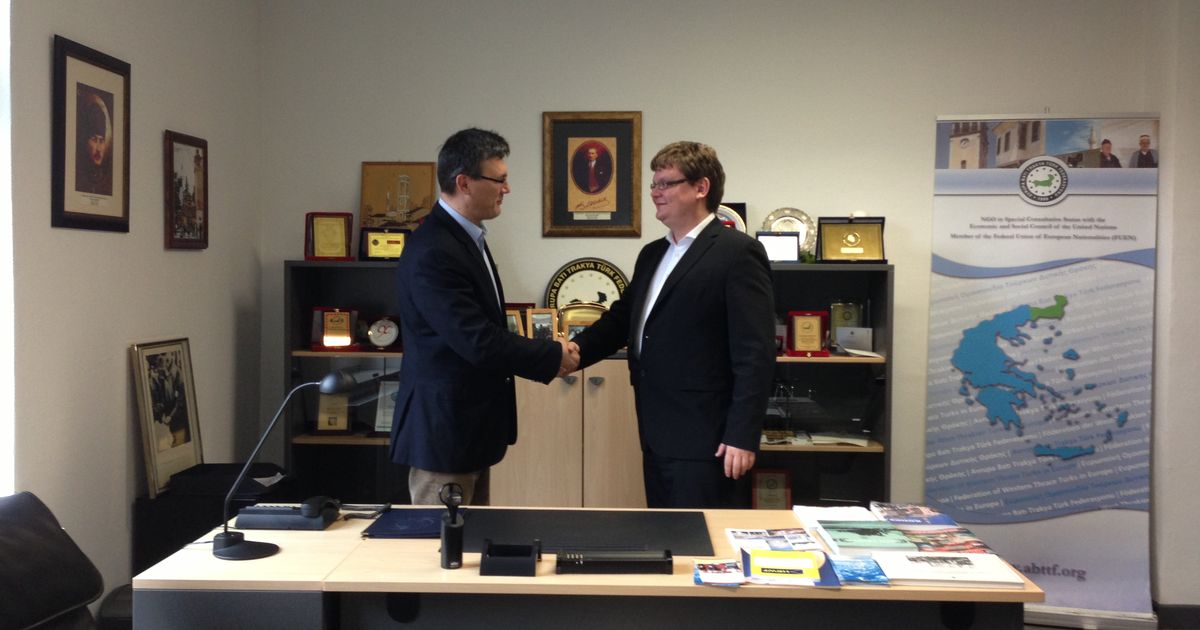 Support from Greece for the citizens' initiative
21.03.2013
The umbrella organisation of the Western Thrace Turks – ABTTF – will participate once the European minorities will launch a citizens' initiative for diversity in Europe.
The cooperation was the subject of a meeting that took place lately between the president of the organisation, Halit Habipoglu, and the director of FUEN, Jan Diedrichsen.
The citizens' initiative aims at collecting 1 million signatures for diversity in Europe and by doing so, strengthening the influence of the autochthonous, national minorities.
There are over 300 minorities in Europe with in total more than 100 million people.
That means that every seventh citizen is part of a minority. In the EU, 40 million people speak another language than the state language of the country they are living in.
The European Citizens' Initiative is a new, political instrument of the European Union that gives the citizens direct influence on the decisions in Brussels.
"As minorities, we absolutely have to act with one voice on the European level. From our own experience we must say that we are not listened to in Greece about our problems. The key for us is therefore the European level. If we succeed in mobilising 1 million signatures, in terms of solidarity throughout Europe, then people will have to start taking us seriously", says Halit Habipoglu.
The launch of the citizens' initiative will be at the largest congress of the minorities in Europe – the FUEN Congress – that will take place in Brixen in the summer of 2013. One million signatures should be collected by the time the election for the European Parliament will take place in 2014.
The founding partners of the initiative are the representative organisation of the Democratic Alliance of the Hungarians in Romania (RMDSZ) and the South Tyrolean People's Party (SVP) – they are both members of the umbrella organisation of the minorities in Europe, FUEN.
The Western Thrace Turks (original name: Batı Trakya Türkleri) are a Turkish minority in Western Thrace, Greece. Like the Greeks in Istanbul, they did not come under the Turkish-Greek agreement on population exchange from 30 January 1923. Their number is estimated at between 80.000 and 120.000 people.
(Source: wikipedia & www.abttf.org)
FUEN: The Federal Union of European Nationalities (FUEN) is an umbrella organisation for around 90 member organisations that represent autochthonous, national minorities in Europe. FUEN has its office in Flensburg, Schleswig-Holstein, Germany. (www.fuen.org)

RMDSZ: The Democratic Alliance of the Hungarians in Romania (RMDSZ) represents the Hungarian community and is an important political power in Romania; over the past 20 years RMDSZ has been represented in the Romanian governments and in the European Parliament. (http://www.dahr.ro)
SVP: The South Tyrolean People's Party (SVP) is a regional party and collective movement that politically represents the German and Ladin population in South Tyrol and in Italy. SVP is represented in the Italian parliament and in the European Parliament. (www.svp.eu)
YEN: The Youth of European Nationalities (YEN) is the largest youth organisation of the national minorities and comprises 40 member organisations.
(www.yeni.org)
Photo: FUEN