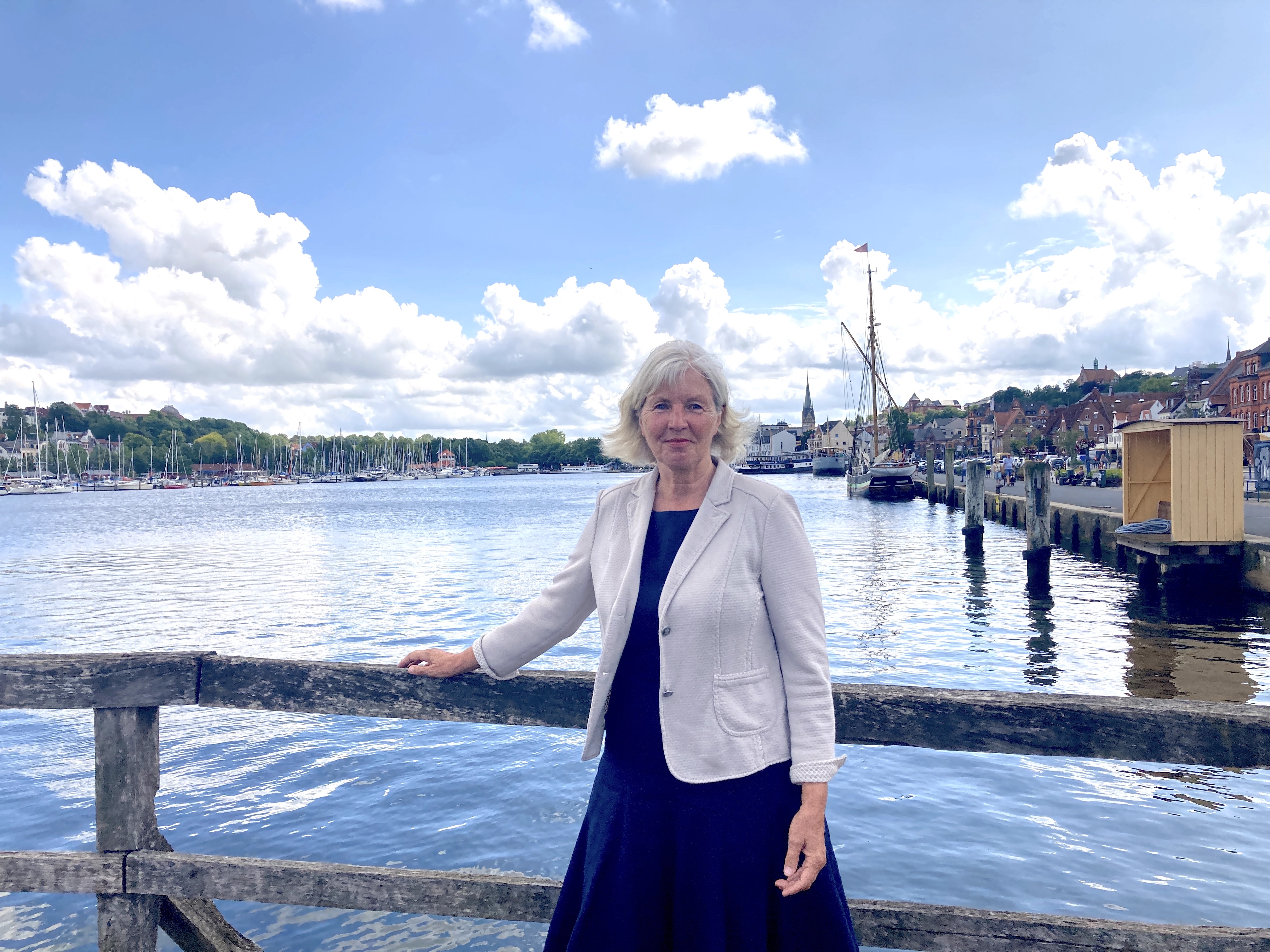 FUEN Prize laureate 2023: Renate Schnack – Thinking with the minorities
07.09.2023
There is a common thread that runs brightly and colourfully through Renate Schnack's life. "The idea of equality and equal opportunities for all people – that has always been my motivation and deepest incentive," says the politician from Schleswig-Holstein, who was awarded the FUEN Prize for exceptional commitment and great dedication to autochthonous national minorities and language groups in Europe at this year's FUEN Congress. "Renate Schnack is above all a role model when it comes to putting objectives and strategies in minority policy into practice. How does she manage it? She is empathetic, knows how to listen well and has diplomatic skills – and never gives up!" emphasised Gösta Toft, FUEN Vice-President and, as a North Silesian, long-time companion of the laureate, in his laudation.
Renate Schnack is a woman of the majority who grew up monolingual. However, even as a young girl, during her childhood on the North Sea island of Sylt, she recognised the diversity in which she lives. Besides German and Low German, there was always Frisian and Danish, there were cultural customs and traditions from all these cultures. "As a child, I didn't think about it," she says in retrospect, "We were the way we were – all different and yet a community. That only really dawned on me sometime later."
The North Frisian found her way into politics through her interest in what was going on in her immediate surroundings, in the kindergarten, school and community. From the municipal council, her path even led her to the office of president of the district of North Frisia, in 1994 as the first woman in this position. "As district president, I often had the opportunity to highlight the cultural and linguistic diversity of my homeland," Renate Schnack remembers. For example, there was an anniversary celebration where a folk song was sung as a canon in all the languages spoken there – no question who came up with the idea. "Such occasions were little badges for our minorities, making them more visible." And these opportunities the committed politician tried to create again and again. She involved the youth organisations of the minorities so that they could participate on an equal footing. She put the minorities in Schleswig-Holstein on the map and on the agenda because she thought about them and helped them to get the limelight.
Thus, from today's perspective, her appointment as "Representative of the Minister President of Schleswig-Holstein in matters of national minorities and ethnic groups, borderland work and Low German" in 2000 was a logical consequence. And yet, as Renate Schnack puts it, "a courageous step by the then Prime Minister Heide Simonis to put an unknown volunteer politician in such an office." But Simonis had long since recognised her qualities and was not disappointed. "My foreign minister," she called Renate Schnack.
Renate Schnack and the office of Minorities Commissioner – the first in Germany, by the way – that was a perfect match, also thanks to the "great freedoms and opportunities Heide Simonis gave me", she emphasises. It was not an office on paper, but one that actually had an effect, which took the minorities, but also the majority, with it and set many things in motion. The DialogForumNorden was developed in the border region to bring the minorities into a fruitful exchange, which was by no means a matter of course due to the history on the German-Danish border. That's when the Sinti and Roma were put on the political agenda, who had been mostly forgotten before. "A group that does not need pity, but empathy," says Renate Schnack.
And with this necessary empathy she has achieved a lot for and with the Sinti and Roma in Schleswig-Holstein, for example the housing project "Maro Temm", through which many families have found a home, as well as the concept of mediators, who accompany Sinti and Roma families in order to give the children better educational opportunities. Later, she even succeeded in getting the Sinti and Roma included in the Schleswig-Holstein state constitution.
Does she have something like a recipe for success? "Talk, talk, talk, repeat things again and again, repetition is so important in politics. Steps you want to take, explaining them over and over again." So her surname ("schnack" means "chat" in German) soon became a running gag, she says. But Renate Schnack has a sense of humour, and could live with it well. Another ingredient in her recipe for success may be that she never lost sight of the outside world. "We always looked to Europe, how are others doing it? There were many good and bad examples that we in Schleswig-Holstein could learn from."
And finally, it often helped her not to be a "minority" but a woman of the majority. "My independence was important to convince governments in Kiel, Berlin and Brussels," says the 69-year-old. She has also consciously held all her positions on a voluntary basis for this reason.
And what is it actually for her, the much-vaunted added value of minorities? "An inner attitude that you have towards other people. Being open and not thinking in one language. Being able to see the same thing from different perspectives," answers Renate Schnack. And adds: "I have always found it a great added value and gain to be so close to minorities." She says "to be" – not: "to work". Because her work was and is her passion and affair of the heart.