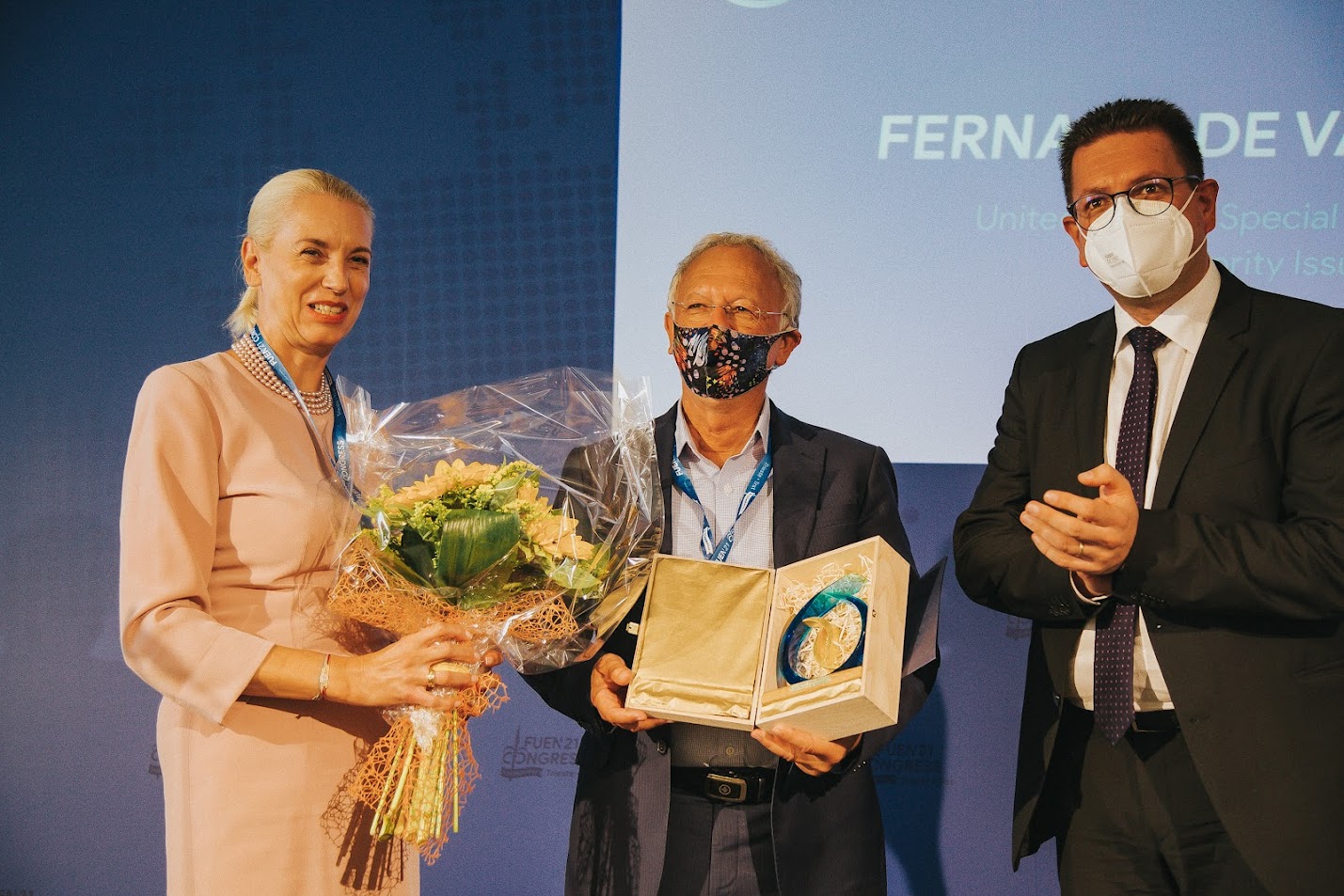 Fernand de Varennes receives the FUEN Prize 2021
09.09.2021
"Minority rights are human rights - these must be put on the same level and respected" - with this appeal Fernand de Varennes addressed the audience in his acceptance speech after he was awarded this year's FUEN Prize.
The UN Special Rapporteur on Minority Issues is considered one of the leading experts in the field of minority rights. His appointment as Special Rapporteur on Minority Issues by the United Nations was a logical consequence of his successful work, as FUEN Vice-President Angelika Mlinar pointed out in her laudation.
Dr Fernand de Varennes is a Canadian citizen and teaches at several universities: he is a lecturer at the University of Pretoria (South Africa) and the National University of Ireland-Galway (Ireland) as well as a visiting professor at the Faculty of Law of the University of Hong Kong (China). He has published more than 200 works in 30 languages. FUEN appreciates the work he has done as an academic expert on minority issues.
"The protection of minorities is a matter that never ends. Minorities continue to face great challenges, yet together you have already made great steps forward," said Fernand de Varennes, announcing his intention to continue his commitment even after his UN mandate ends.
The FUEN Prize is a special honour for the extraordinary dedication and great commitment to the autochthonous national minorities and language groups in Europe. Launched in 2019, the award has now been formally presented for the second time at the FUEN Congress 2021.
The FUEN Prize 2021 is entitled "Zwei Brücken" (engl. two bridges) and symbolises one of FUEN's guiding principles: minorities are bridge builders. The work of art, made of cast resin, gold leaf and wood, was produced by the Flensburg artist Simone Bruhn, who belongs to the Danish minority in Germany. It is meant to symbolise peaceful coexistence in Europe and is a sign of the interplay between tradition and modernity.