FUEN congratulates ECMI on its 25th anniversary
06.12.2021
It is the centre for minority studies in Europe: since its foundation in 1996, the European Centre for Minority Issues (ECMI) has become an international flagship with a network from all over the world. Now the Centre is celebrating its 25th anniversary, on which FUEN extends its warmest congratulations. "We look forward to continuing such good cooperation in the next quarter century," says FUEN President Loránt Vincze.
ECMI is based in the German-Danish border region and is located in a historic building in the centre of Flensburg, just a few hundred metres from the FUEN office. It conducts practice- and policy-oriented research, provides information and documentation, and offers advisory services on minority-majority relations in Europe.
ECMI was founded by the governments of Denmark, Germany and Schleswig-Holstein. It is an independent and interdisciplinary institution based on an international staff, supplemented by a number of non-resident Senior Research Associates from across Europe and beyond. It works with various governments and international organisations, as well as with civil society and minority groups in Europe. The Centre supports academic research, the media and the general public by providing information and analysis.
To mark its anniversary, ECMI hosted a ceremony in Flensburg on Friday 3 December, at which FUEN was represented by President Loránt Vincze and Vice-President Gösta Toft. "Since its foundation in 1996, ECMI has continuously changed and developed in line with the regional and international trends of European integration and globalisation. In a globalised world of digitalisation, the protection of minorities is becoming increasingly important as new challenges arise," explained ECMI Director Prof. Vello Pettai in his anniversary speech.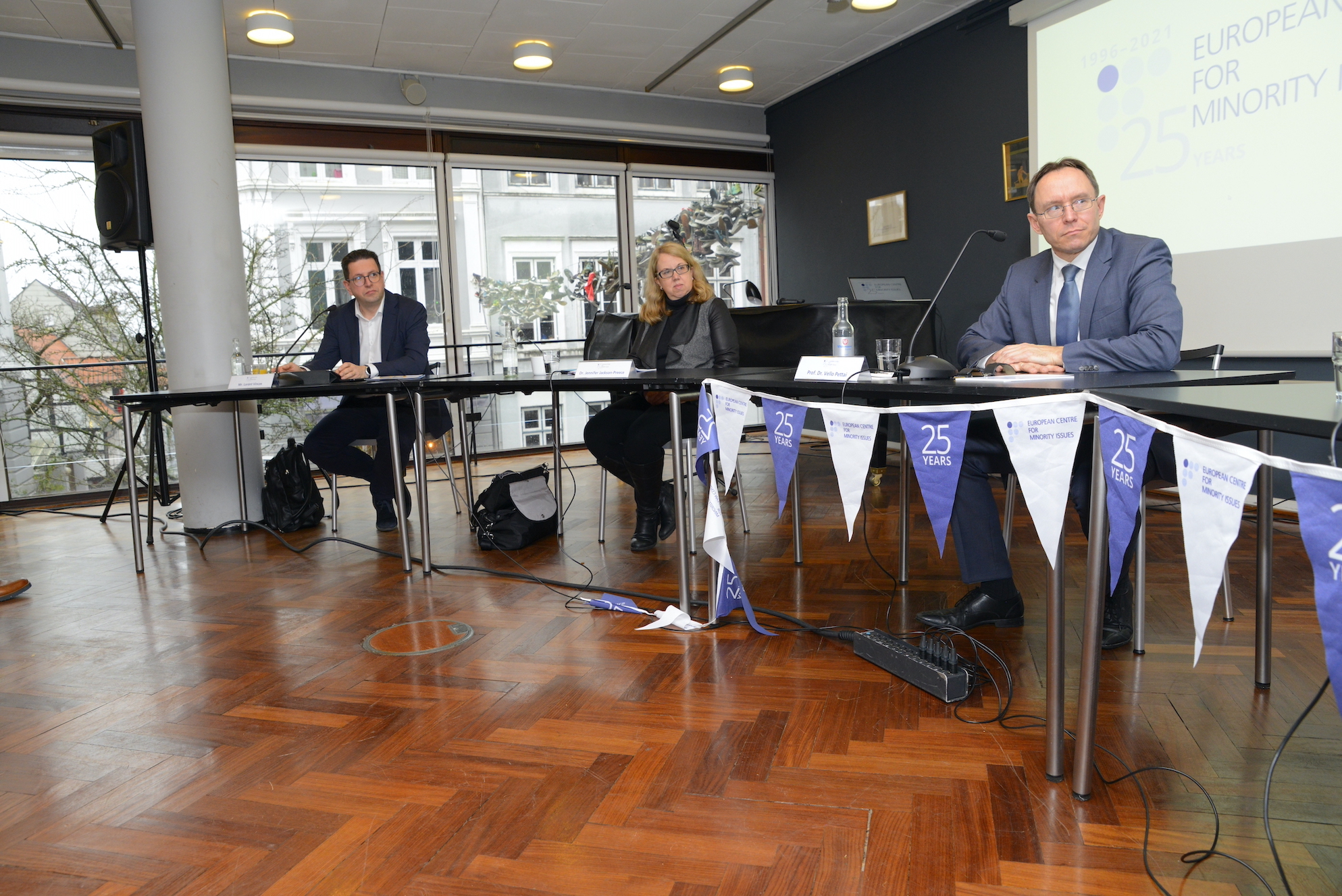 photo: ECMI
As part of the anniversary, in a panel discussion on the topic "European Minority Issues: the road travelled and the way forward", Prof. Dr. Rainer Hofmann (former President of the Advisory Committee for the Framework Convention for the Protection of National Minorities), Linda Pieper (Advisor for National Minority Issues, State Chancellery of the State of Schleswig-Holstein), Dr. Jennifer Jackson-Preece (Associate Professor of Nationalism, London School of Economics and Political Science) and MEP Loránt Vincze (FUEN President) discussed the historical, institutional and legal context of minority protection. The FUEN president congratulated ECMI for this milestone, saying that "We see you as a partner institution more and more in practice and I hope that we can count on you with your expertize and knowledge that you amassed in the past decades. With FUEN's network and lobby capacity together we can deliver a lot on the front of minority protection", he said.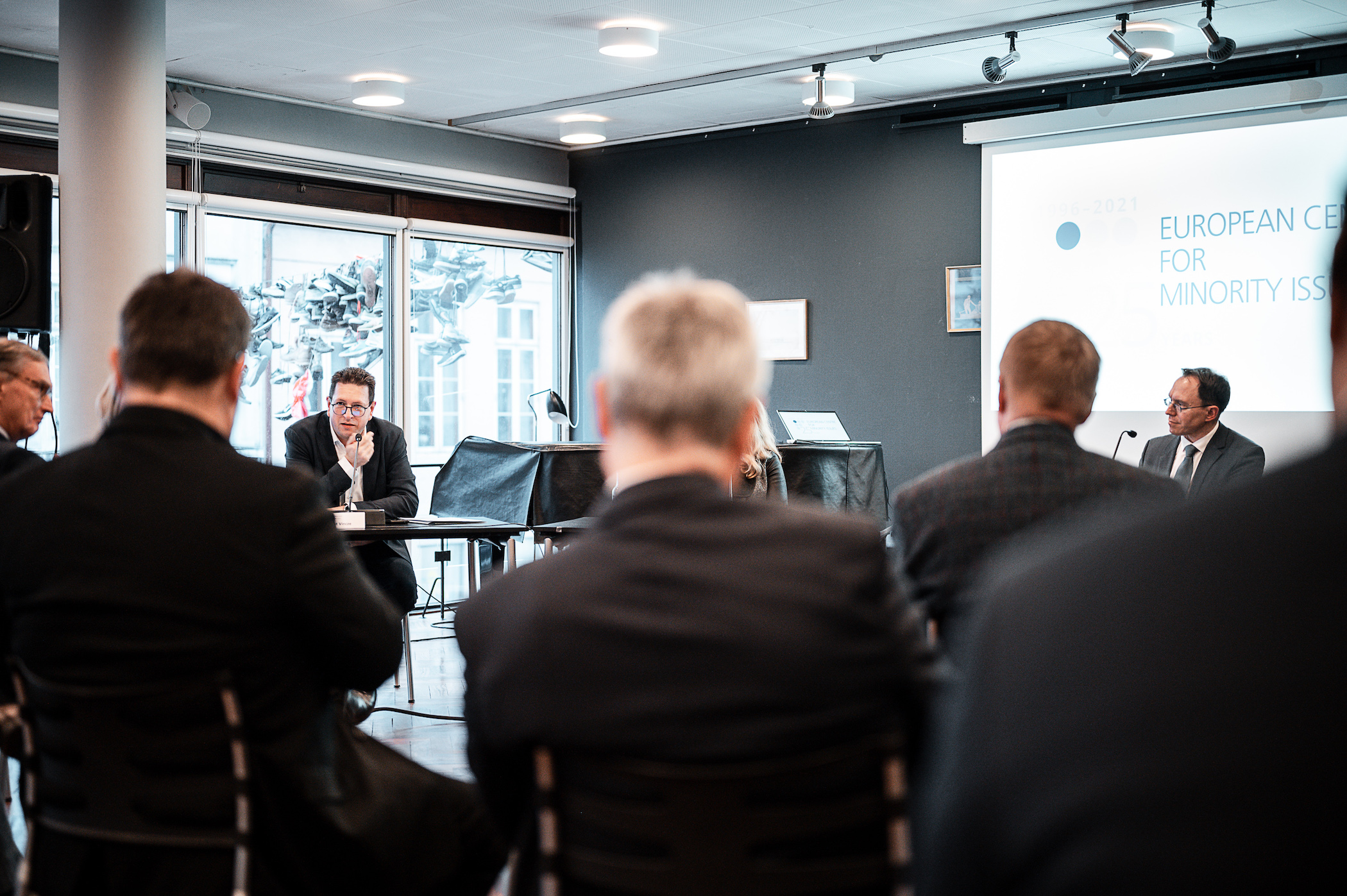 photo: Cornelius von Tiedemann
Loránt Vincze enlisted the Minority Framework Convention and the Language Charter as the only two legal instruments in place in Europe, adding that these also need to be updated. He pointed out that even though the European Union is very keen on common values, the European Commission's refusal to initiate legislation based on the Minority SafePack Intitiative proves that the EU is also driven by national interests. The FUEN President said that while only a few member states oppose the idea of minority protection at EU level, they are very loud, and the Commission unfortunately accepted their 19th century views of nation states. According to him, "with the MSPI we put minority protection on the European agenda, we confronted the Commission with our requests, and they had to discuss this matter. With the Conference on the Future of Europe there is a new opportunity to bring back this issue."
Answering questions from the audience, Loránt Vincze said that he agrees with UN Special Rapporteur on Minority Issues, Professor Fernand de Varennes, that minority rights are human rights. Regarding the hot international topics regarding breaches of minority rights, he said that a principle regarding minorities is needed in international relations: namely that no acquired right can be taken away. That would end a lot of discussions, especially on the language rights and education in Ukraine, he said.