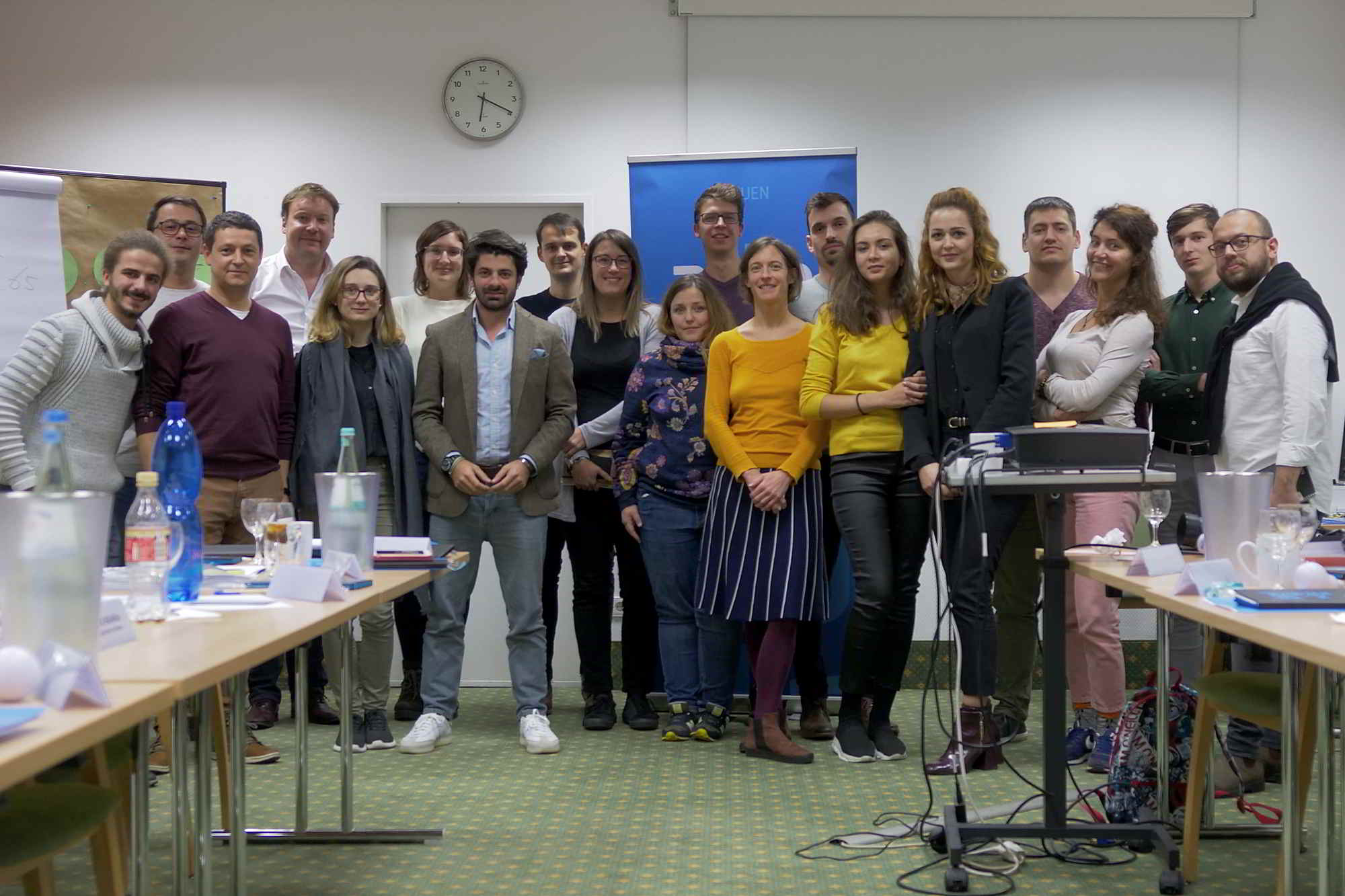 FUEN's second Build Yourself! training was all about successful communication
09.12.2019
Participants of the second module of FUEN's Build Yourself! capacity-building programme spent an active and useful weekend in Berlin, between 6-8 December 2019, learning about online communication and campaign communication, but also about communicating with each other.
Thanks to the Robert Shuman Institute's Jannes Herman-Mostert's opening team building session, the participants opened up, bonded and acted as a team right from the beginning and were eager to learn new things about each other and about communication. "I have a great impression about this group. They are marvelous, there is a lot of talent, they accept each other, they are being inclusive, they have dreams, values, and they come with questions, input. This is a talented group that really is eager to get to work and make a difference. Knowledge and skills are provided by two great trainers, and people really feel invited to be active in their community" – said Mr. Herman-Mosters about his experience with the Build Yourself! programme.
Jerry Zagoritis, the founder and Managing Director of campaignLAB, a boutique Brussels-based consultancy at the intersection of politics, communication, and technology, who designed and executed electoral and advocacy campaigns for political organisations, causes, and candidates across Europe, West Africa and the Middle East was just the right person to learn from about online campaigns. He shared his knowledge about executing online campaigns on different platforms and the elements of a successful campaign, illustrating it with concrete examples from his work experience. "We talked about campaign warfare, integrated online and offline campaigning and did some exercises as a small introduction into media training. This is a very diverse, very lively, very lovely group of people I worked with, they asked very interesting questions, dug deeper into the things we talked about" – so Mr. Zagoritis.
Bálint Porcsalmi, the Executive President of the Democratic Alliance of Hungarians in Romania, RMDSZ, who planned, coordinated and consulted campaigns in Romania, Bulgaria, Ukraine, Hungary, Austria, Lithuania, Slovakia, Moldova, Serbia and Jordan got even more into the details in his training session about campaign communication, breaking down the steps of a campaign, explaining the structure and the essential elements of a campaign. "During this weekend we managed to cover a great area from communication, campaigning, social media, so I think it was a great experience for all of them. They learnt a lot, they acquired new skills. Every opportunity like this gives them not just new informations, but also helps them structure their own knowledge they had before this training. I met a lot of committed, bright young people, who are involved in their own communities, who want to make a difference, and I think this organization and the training they provide can be very helpful for them. FUEN's Build Yourself! training is a great opportunity for people involved in different minority organizations to first of all learn about each other, but most importantly to acquire new skills when it comes to organizations, organizational development, and to apply those skills in their communities" – Mr. Porcsalmi concluded.
After the last session, in which the participants evaluated the training, project manager László Bodor handed out Certificates to all of them. "The first and most important issue regarding the Build Yourself! training programme is developing the FUEN member organizations. This is not just a capacity building for people, but also for the organizations. I am very happy that we had participants who were interested in the two trainings we had so far in Berlin. I am hopeful that everybody who was here will go back to their home organization and will use the knowledge and skills acquired here. We will continue with two new trainings coming up in January in Viena and February in South Tyrol. We will continue to try to make FUEN a renewed and dynamic organization in the next years through these trainings. I have to thank the Robert Schuman Institute, the financing partners of the training programme, and our trainers, because they are the key persons in this project" – the project manager had to say.
Recruiting and Fundraising are the themes of the next Build Yourself! programme, which will take place between 24-26 January 2020 in Vienna, Austria. Registration is now open at buildyourself.fuen.org