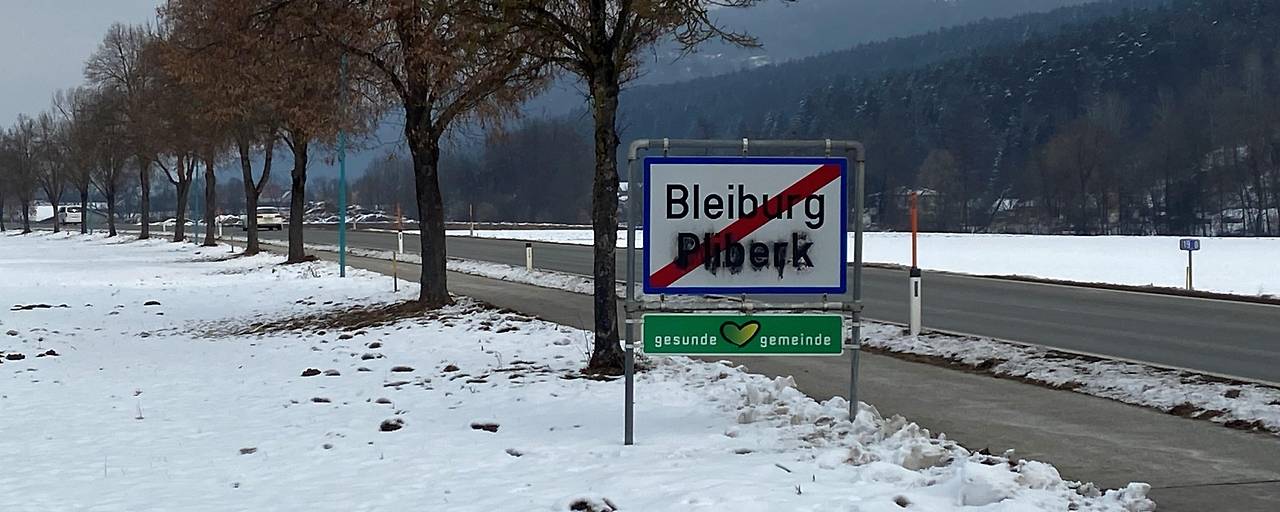 FUEN condemns smearing of bilingual town signs in Carinthia/Koroška
26.01.2021
The Federal Union of European Nationalities condemns the smearing on bilingual topographical signs in several localities in Carinthia/Koroška, among them the municipalities of Bleiburg/Pliberk and Eberndorf/Dobrla Vas.
As the umbrella organisation of the autochthonous national minorities and language communities in Europe, we look with great concern to Carinthia, where in recent weeks the smearing of Slovene designations on bilingual place-name signs in Carinthia have increased.
FUEN President Loránt Vincze expresses his solidarity with the Carinthian Slovenes: "I am stunned by these smeared signs and amazed that some people in the heart of Europe show such hostility towards the Carinthian Slovene minority, a recognised minority that has been living on the territory of Carinthia for centuries. In a Europe of diversity, such actions have no place and are to be despised".
FUEN Vice-President Angelika Mlinar, herself a Carinthian Slovene, is also dismayed by the recent events in Carinthia: "An attack on the Slovene language is an attack on the Slovene minority in Carinthia. I hope that the rule of law in Austria will do its job, find the culprits and also punish them."
FUEN appeals to the Austrian authorities to catch the perpetrators as soon as possible and calls on the political leaders in Austria to do even more educational work about the Austrian ethnic groups – especially in schools – as many residents of Carinthia do not seem to be sufficiently aware of both the history and the constitutional protection of the Slovene minority in Austria, as a number of hateful and fact-free posts on social media illustrate.
More information on the smearing and the statement of our member organisations the Council of Carinthian Slovenes / Narodni svet koroških Slovencev (NSKS) and Community of Carinthian Slovenes / Skupnost koroških Slovencev in Slovenk (SKS) can be found here:
https://www.nsks.at/aktualno_aktuell/detail/de/nujna-preiskava-mazashkih-akcij
https://kaernten.orf.at/stories/3086616/
https://agsm.fuen.org/de/article/Mehrere-zweisprachige-Ortstafeln-in-KaerntenKoroska-beschmiert
https://www.skupnost.at/de/details-1325/pressemitteilung-768.html