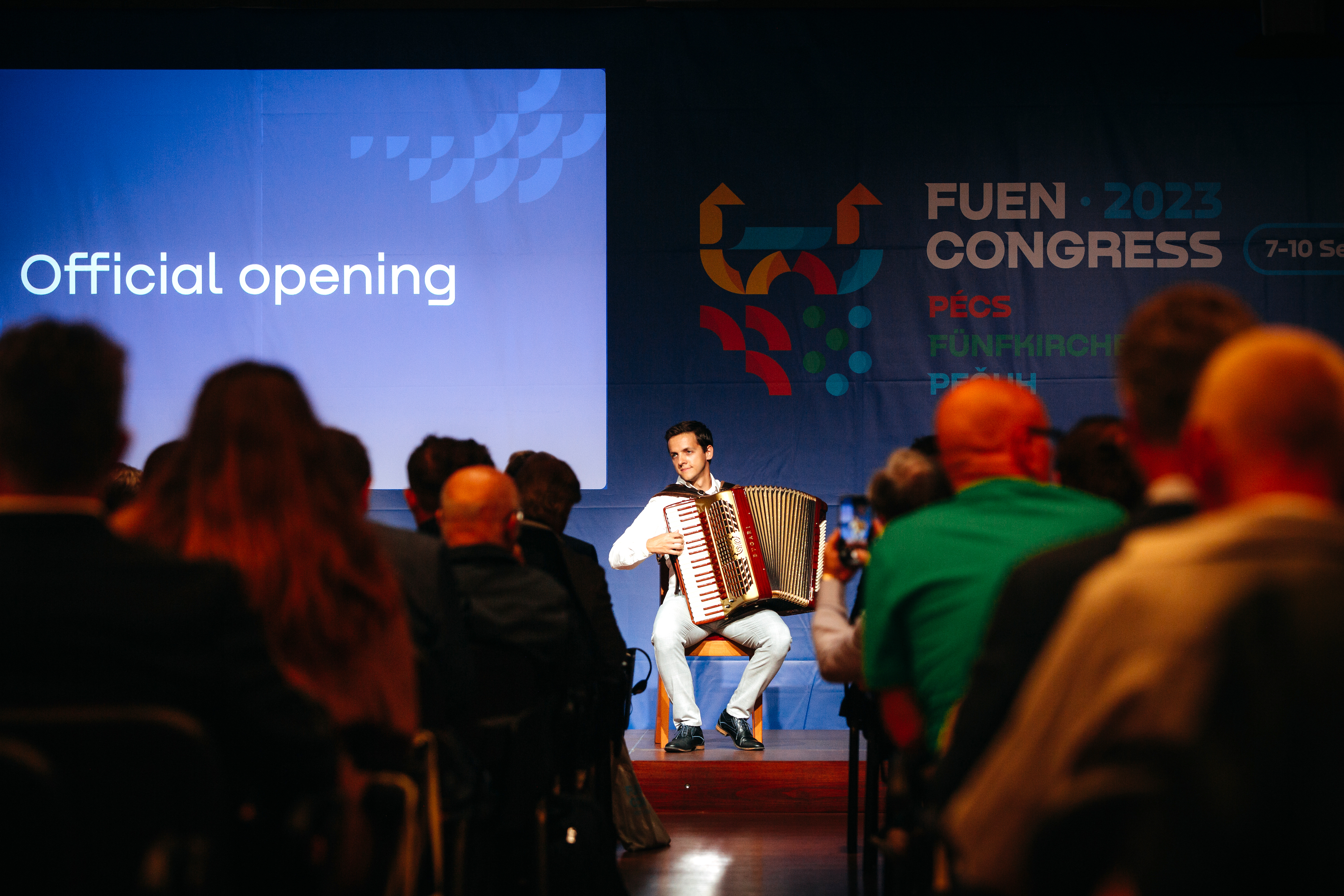 A guest in the city of many minorities: The FUEN Congress opens in Pécs, Hungary
07.09.2023
The largest meeting of Europe's autochthonous national minorities has begun: The 67th FUEN Congress was ceremonially opened today in Pécs/Fünkirchen/Pečuh, Hungary. Until 10 September, around 200 participants from 26 countries and 50 FUEN member organisations will exchange views on current developments in minority policy.
This year's host is the Self-Government of Germans in Hungary (Landesselbstverwaltung der Ungarndeutschen – LdU).
During panel discussions, cultural presentations and excursions to local minority educational institutions, participants will have the opportunity to get a diverse picture of the situation of minorities in Hungary, to engage in personal exchange and to receive suggestions for minority work on the ground.
At the official opening, the following speakers addressed the participants at the Kodaly Centre in Pécs: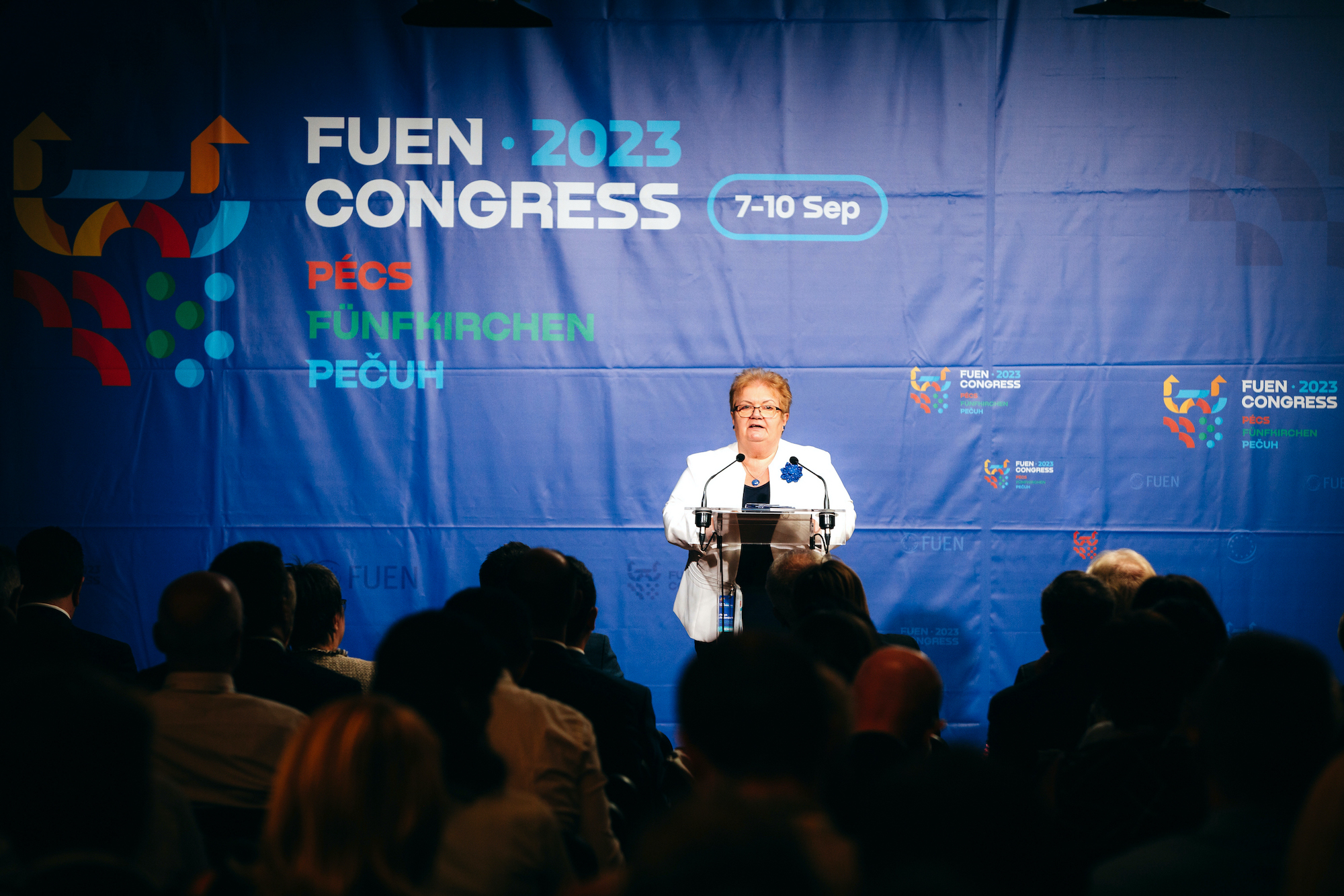 Ibolya Hock-Englender, Chairwoman of Self-Government of Germans in Hungary (LdU):
"The city of Pécs can rightly be called a worthy background for a FUEN congress, because eleven different nationalities live here alongside Hungarians," she explained. Thus, she said, the region is a reflection of the whole of Hungary, which is characterised by ethnic diversity. She praised the system of nationality self-governments in hundreds of municipalities across the country, which is the cornerstone for the participation and preservation of minorities.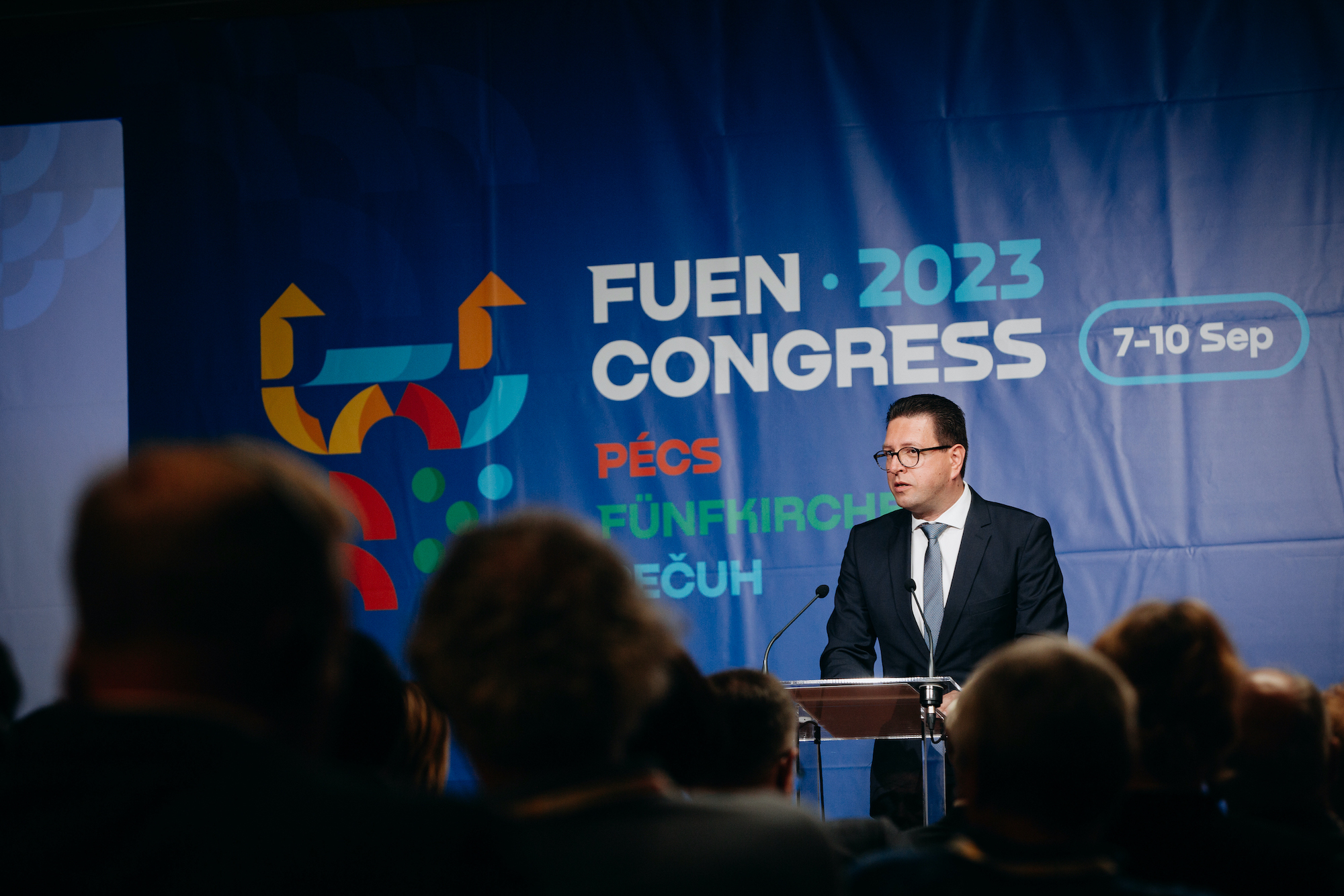 Loránt Vincze, FUEN President and Member of the European Parliament
"Hungary has a prominent place in the history of FUEN, as the first FUEN Congress in a former communist country was held in Budapest in 1991, after the fall of the Iron Curtain. This 32-year old minority gathering was a real watershed in the history of our organisation, and a clear sign of FUEN's new goals. It marked the beginning of FUEN's opening to Eastern and Central Europe. In the decade since then, we have doubled the number of our member organisations and FUEN has become the largest European minority advocacy organisation. Without a doubt, we are now a dominant and leading organisation, a reliable partner for European and international organisations. Similar to 1991, we live again in turbulent, unpredictable times, that offers the opportunity to discuss about the role and the future of FUEN in Europe."
He identified some priorities for FUEN: consolidating the organisation's presence all over Europe, tackling hate speech, continuing the fight for minority education and involving the youth.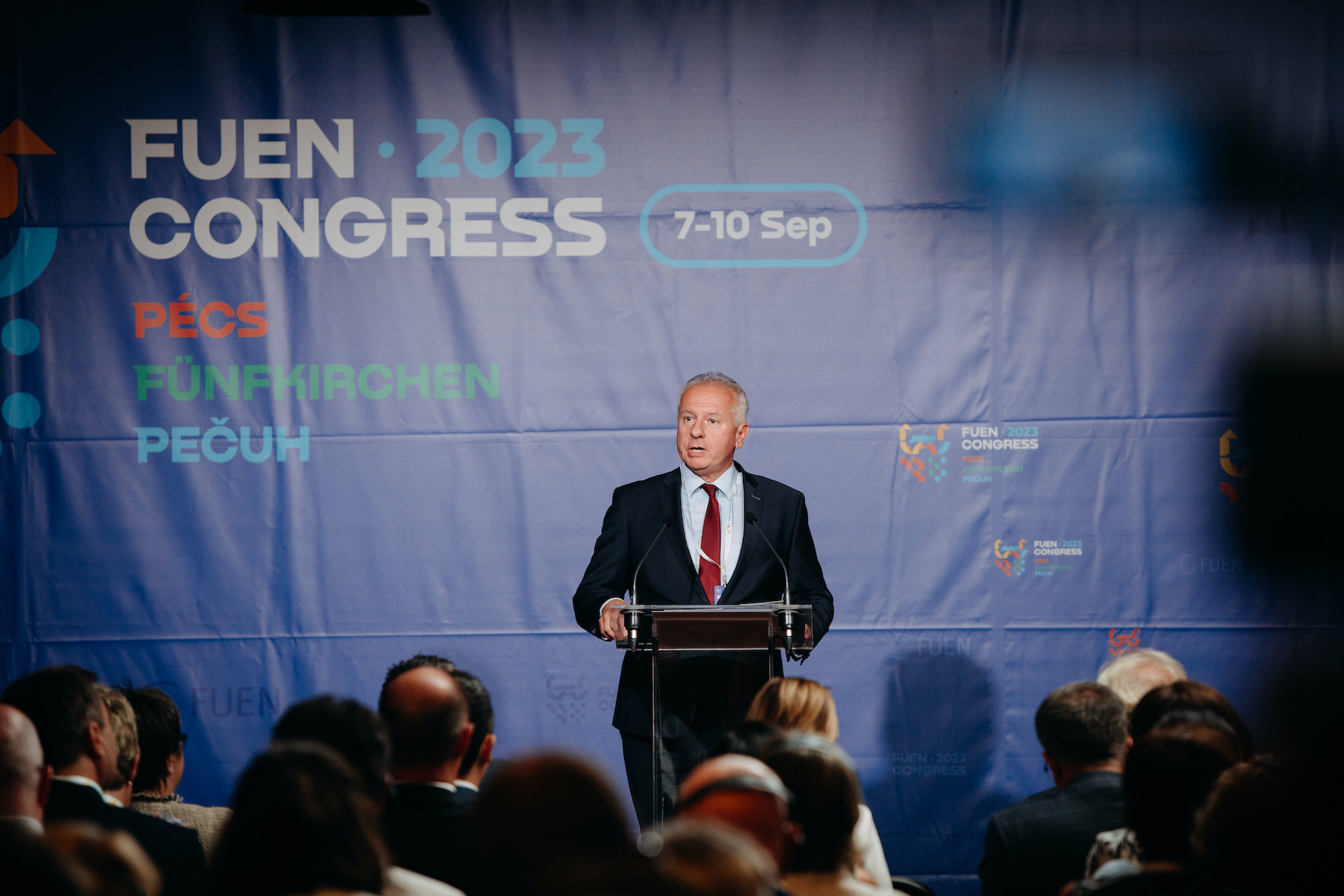 Attila Péterffy, Mayor of Pécs/Fünfkirchen/Pečuh
"Pécs / Fünfkirchen / Pečuh is the home of 11 national minorities, and it is a historically diverse, multicultural and welcoming city. I hope it will be an inspiring venue for the Congress, and that our city will be able to enrich the work of FUEN as much as the nationalities living here enrich our city."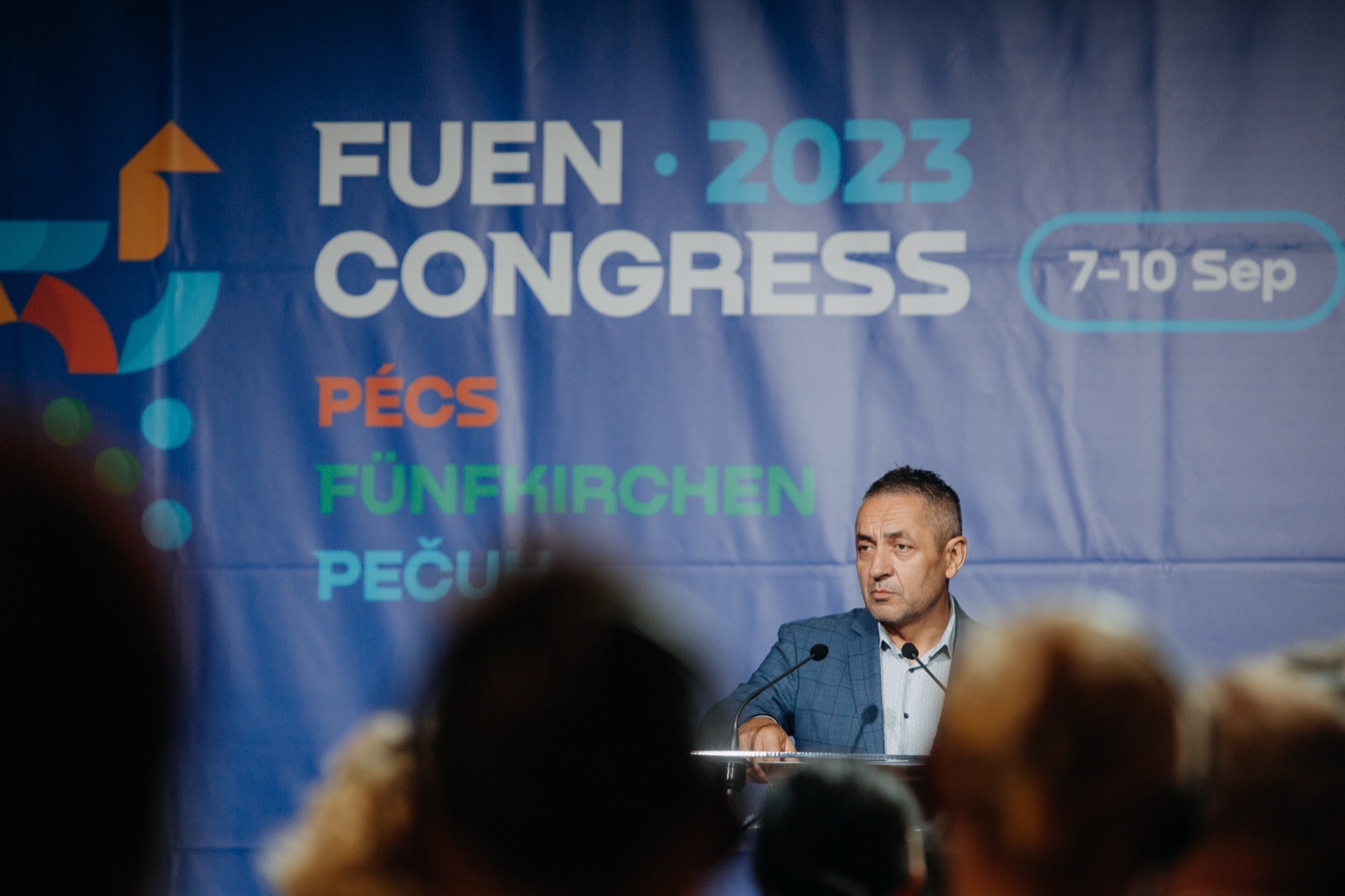 Árpád János Potápi, State Secretary for Hungarian Communities Abroad
"National minorities must continue to think together about their common problems, our common concerns. We must formulate our expectations to the decision-makers in Europe."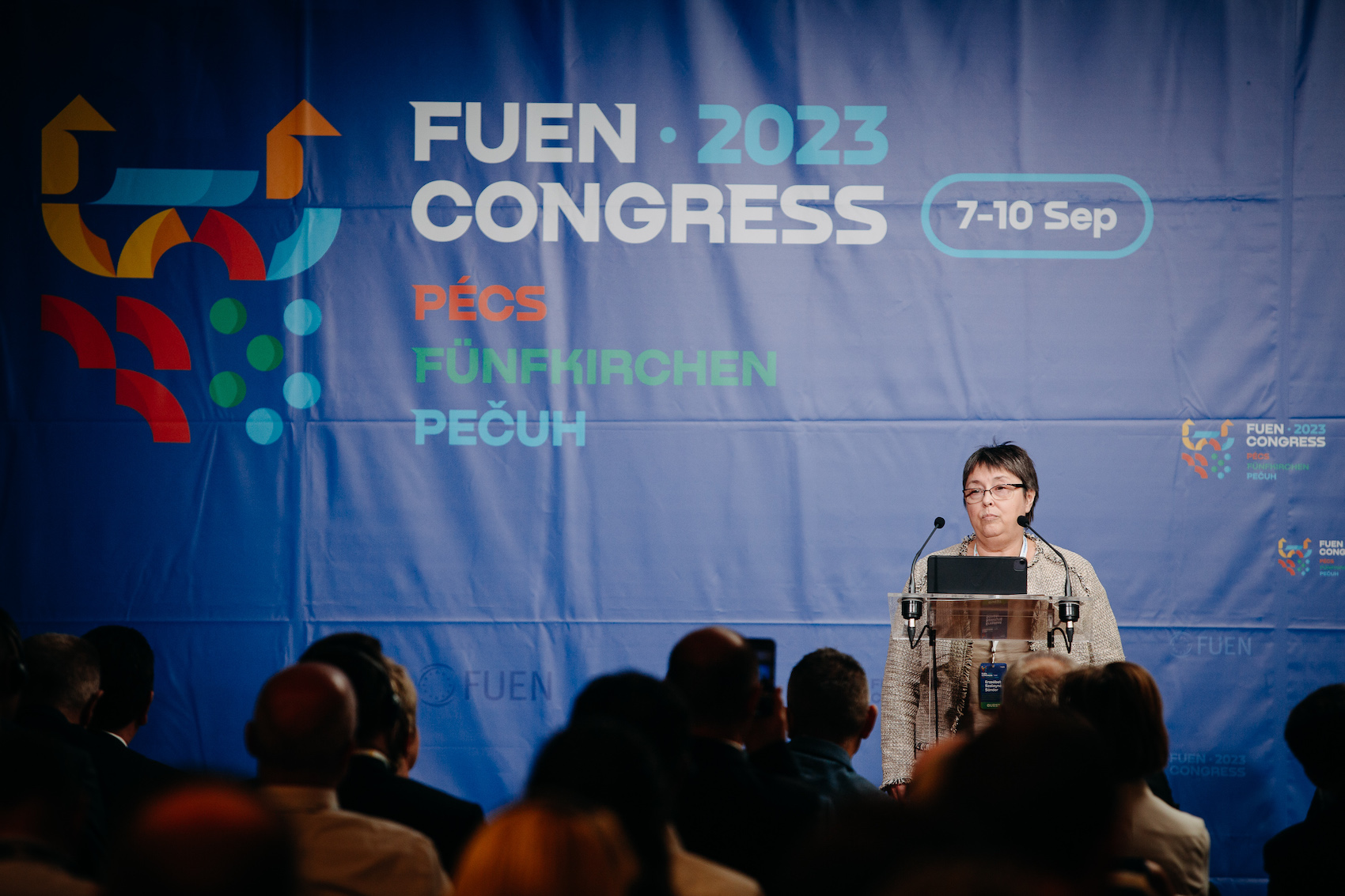 Elisabeth Sándor-Szalay, Deputy Ombudsperson for Minority Rights and member of the FCNM Advisory Committee of the Council of Europe
"Minority rights are not a gift from the majority and not a privilege of minorities – but the right to be different and to live out one's individual freedom. Appreciation and diversity instead of homogeneity are elementary goals we should strive for in Europe."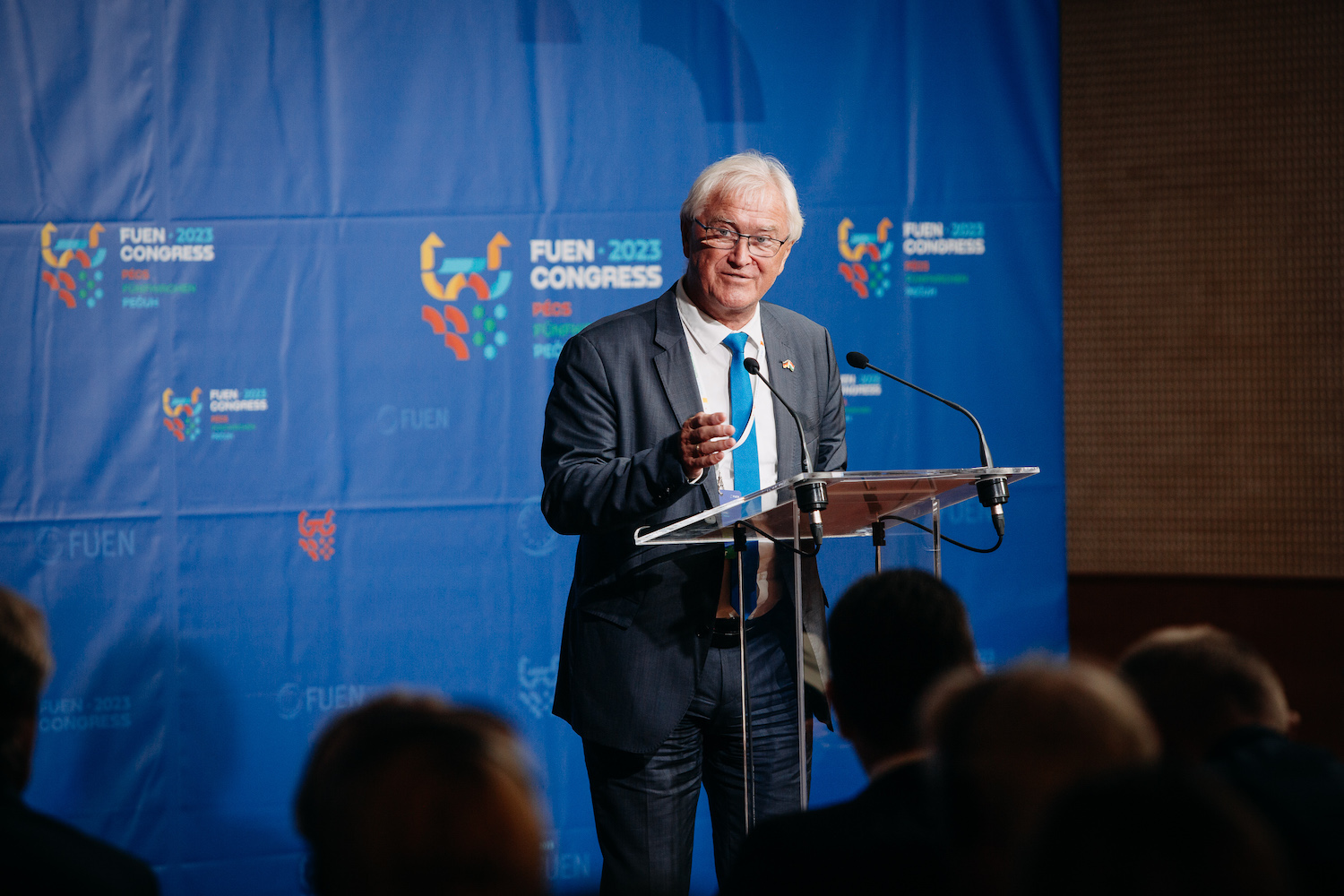 Emmerich Ritter, Chairman of the Nationalities Committee of the Hungarian Parliament
"We have to determine what belongs to minority policy issues –the government learns from us, minorities, what can be done for minorities. Dialogue is elementary to make a difference."
For more information on the FUEN Congress, visit https://congress2023.fuen.org and our social media channels!
Photos: László Mihály